Urban Outfitters is making the popular 90s brand FILA cool again.
The popular urban retailer and athletic brand are teaming up for a collection that will bring designs from the Seventies, Eighties and Nineties to a new generation of consumers.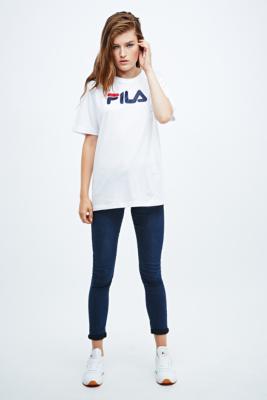 The liner features Fila's signature polo shirts and athletic jackets, while also adding in jeans, sweatshirts, super cute miniskirts.
The collection is currently available in certain UO stores and online and also includes polo dresses, athletic bags and an update on the 1993 Cage high top basketball sneaker.
Retailing between $28 to $128, each item in the collection will also be stamped with the original 1973 Fila F-Box red, white and blue logo.
This is just the latest in Fila's marketing attempts to bring the brand to younger generations. Fila has also teamed up with the jeweler "Mr. Flawless" to redesign one of their classic sneakers. Fila also has several players in the U.S. Open wearing their new line Platinum, made with Invista Thermacool.
Shop the collection HERE
Source: StyleBlazer