Brooklyn rapper Troy Ave was a target of an almost fatal shooting while he sat in his Maserati at a Brooklyn traffic light on Christmas afternoon.
The "June 5th" emcee, who is currently awaiting trial for an attempted murder charge over a shooting at Irving Plaza this past May, was shot twice while sitting at a red light in his Maserati convertible.
The 34-year-old rapper was driving with his girlfriend in the passenger seat while on their way to spend Christmas Day with their family. While stopping at a red light, a gunman abruptly opened fire through the driver's side widow of the car around 4:20 p.m, according to law enforcement officials.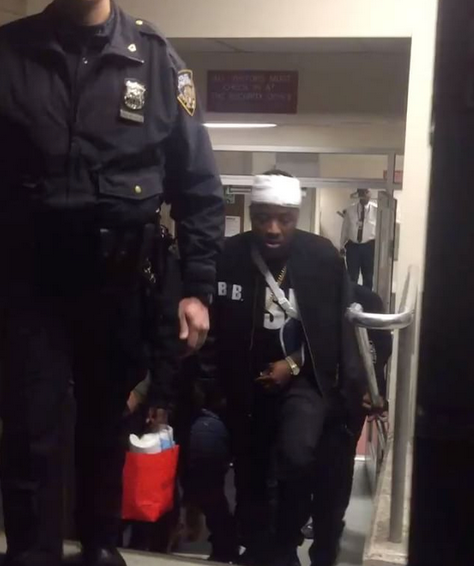 Troy was shot twice with one bullet hitting his the shoulder and another grazing his head, law enforcement said.
The native Brooklyn rapper, whose real name is Roland Collins, was able to drive for a few more blocks before he crashed his car and a witness took him to the nearest hospital where he has been listed in stable condition.
Police had yet to arrest anyone over the shooting by early Monday.
While speaking exclusively with REVOLT TV on Monday, Troy expressed his thoughts following the shooting.
"To be honest man I got a bullet still in my head and another one lodged in my back," he said. Ave was also struck in the arm. "Words can't describe how blessed I feel to be here. To all the fans, just ride with ya boy. Keep me in prayers and play my music loud."
Troy also encouraged his following to be vocal in praising his just-released project.
"Spread the word bout that #WhiteChristmas4 mixtape cause that's my gift to yall!" he added. "I was given the gift of life 💯. Yours truly Dope Boy Troy."
Troy saw a man approaching his Maserati with a gun around 4:20 p.m. on Christmas Day while waiting at a red light on Linden Boulevard and 91st street. Troy attempted to drive off, but before he could flee, a barrage of bullets hit the car and struck him twice. Troy was able to drive far enough away from the gunman in his car, but soon crashed due to heavy bleeding. A local witness saw a wounded Troy and took him and his girlfriend to the nearby Brookdale hospital.
50 Cent visited Troy in the hospital Sunday night on posted a pic on Instagram. The two posed for a flick, and it was posted on Instagram. This is the second time this year Troy was shot. In May while at Irving Plaza for a TI concert, Ave was struck in the leg, and his friend Ronald McPhatter was fatally wounded with gunshots. No suspects have been named in that case either.