There were an onslaught of hilarious memes that sprang about following the BET Awards last week where Cash Money CEO Birdman, and R&B soulstress Toni Braxton made their red carpet debut.
Well, it appears that social media aren't the only ones who are a little weirded out by Birdman and Toni's courtship.
Turns out Toni's own sister, Traci Braxton, has spoken out on her sister's relationship with Birdman, and says that Baby is so close to the Braxton family he is more like a brother, which makes he and Toni's relationship more like "incest".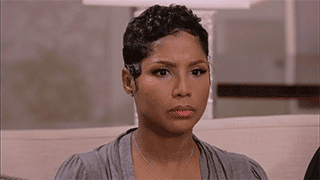 Via: HipHollywood
Traci Braxton is a little weirded out by her sister, Toni Braxton and Birdman's alleged budding romance.
HipHollywood caught up with the Braxton sister during Essence Festival in New Orleans and when asked how she feels about Birdman getting a "bad wrap" by folks, Traci responded, "I think so."
She then proceeded to tell us, "He's been in the family for such a long time, so it's like almost incest. It's like kissing your brother in the mouth or something." Braxton then used the term "good friends" before suggesting he's simply "another flower on the wall."
As for hoping her sisters eventually get married, Traci explained, "as long as he treats her right. As girls, we are going to dominate the whole relationship anyway."