Its the 90s all over again in the world of fashion. So it was only a matter of time before popular 90s designer Tommy Hilfiger got in on the fun.
The most notable fashion brand of our childhood is releasing some exclusive pieces that will be sure to bring out your inner Aaliyah.
Via: StyleBlazer
Designers know the selling power of nostalgia, and Tommy Hilfiger just made the ultimate throwback collection.
Hilfiger's red, white and blue logo dominated the '90s, and in his latest collection he is bringing it all back. It instantly conjures up images of Aaliyah, the face of Tommy Jeans,  rocking baggy jeans, worn low to reveal the waistband of her Tommy Hilfiger boxers underneath.
It's reminiscent of Kate Moss walking down the runway in her red, white and blue ensemble. Destiny's Child wore the logo four ways back in the '90s, pairing the Tommy Hilfiger bandeau top with overalls, a track suit and with the matching boxers peeking through.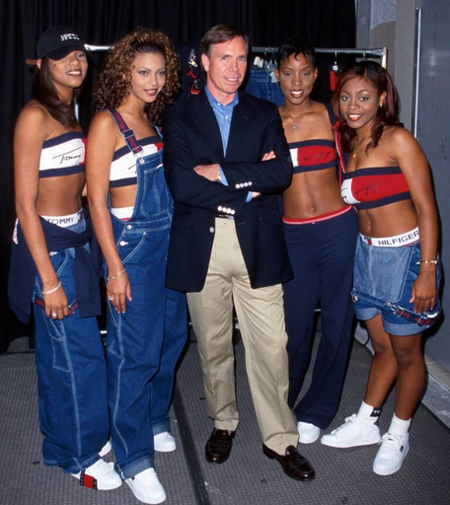 Now, you can get it all over again as Hilfiger is teaming up with Mytheresa.com to bring back the '90s goodness. In a collection ranging in
price from $198 to $654
. According to
Vogue
, the collection will include the iconic flag sweatshirt, a cropped sweatshirt, satin boxer shorts with the classic logo and the varsity jacket has been updated in velvet and satin versions. Also making its grand comeback is the flag bandeau top.
So if you are looking for a last minute costume, this can be your chance to channel your favorite decade, and have a costume you can wear . The collection is available to order
here
.