Following the arrest of hip hop podcaster Taxstone on Monday morning, it has been confirmed that DNA belonging to the podcast host was found on the weapon used at the Irving Plaza shooting last May.
It's been reported that Brooklyn natives, Taxstone and rapper Troy Ave feuded for years, and all came to heads when the two crossed paths in the VIP area of a T.I. concert at Irving Plaza in May 2016.
According to the NYTimes, DNA believed to belong to the podcast host, Daryl Campbell, 31, who is known as Taxstone, was found on the trigger, hand grip and magazine of the 9-millimeter Kel-Tec semiautomatic handgun that was used in the shooting in the V.I.P. green room of a crowded Manhattan concert venue, a federal complaint says.
Taxstone is believed to have had the gun before the shooting, with video showing him coming into the green room before the gunfire and then fleeing after gunfire began, the complaint says. Video shows that in front of Taxstone was the now deceased bodyguard, Ronald McPhatter and behindhim stood Troy Ave. Video shows a wounded Troy Ave holding the Kel-Tec gun and firing it toward a fleeing Taxstone.
Troy Ave's bodyguard, Ronald McPhatter, was fatally shot in the chest at close range by who officials believe was Taxstone. The gun used in the deadly shooting contained both Taxstone and Troy Ave's DNA on it and was later found in a van that transported Ave to the hospital. Two bystanders were also wounded at the venue, Irving Plaza, where the rapper T.I. was set to perform. Troy pleaded not guilty in June to attempted second-degree murder and other charges.
In a 2015 interview, Taxstone said how he thought his growing fame from his popular Tax Stone podcast had drawn the attention of Troy Ave whom he had publicly criticized for years on Twitter.
"I think his music is mediocre, and he, like, tried to portray this image that he was making greater music than everybody in the city when he wasn't," Mr. Campbell said in the interview. He said that Mr. Collins was trying to take the spotlight from another Brooklyn rapper, Bobby Shmurda, and that in response: "I had to, like, be the person to interrupt that. I just feel he's, like, a fraud rapper, like he never was a drug dealer."
Detective Jose Flores of the New York Police Department, quotes a public threat, made by Taxstone before the shooting, that he says he would open fire on Troy Ave: "When I see you walking up with six dudes, bang-ba-ba-ba-ba-ba-ba." Mr. Campbell repeatedly adds, "Try me."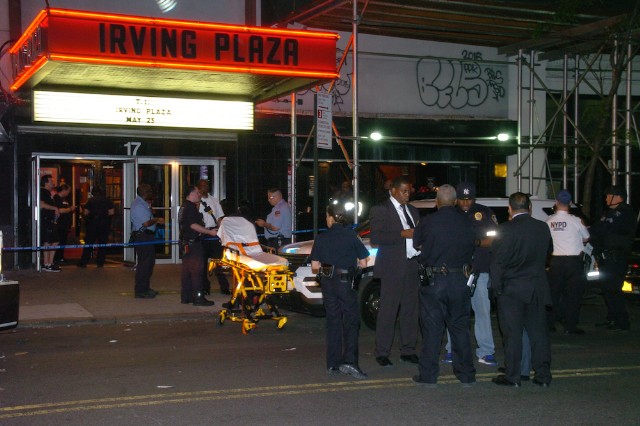 Troy Ave released a "diss track" in which he made fun of Mr. Campbell's social media barbs. "Twitter fingers, how many times ya gonna tweet me?" he raps. "I'm always on the flier, guess you too scared to meet me."
Taxstone has already had run-ins over his gang affiliations with him being blind in his left eye after being shot when he was younger. The gun had been so close to him that gunpowder burned his retina. The federal complaint against Taxstone also makes mention of him confirming his affiliation to the Bloods gang. Taxstone has admitted in past interviews to having spent time in state prison on convictions of attempted weapons possession and attempted robbery, and vowing to never to be locked up again.
He was asked in June about rumors that he had been involved in the shooting at Irving Plaza. "Man, I don't know what happened with that situation," he said.
Mr. Campbell's lawyer, Kenneth Montgomery, said he could not discuss the case before learning more about the accusations."He's doing as best he can for anybody charged with a federal crime," Mr. Montgomery said of Mr. Campbell. "He's a smart young man, and he's concerned about his family, like anyone would be."
Source: NYTimes