Following the national backlash over his recent meeting with Donald Trump, TV Host Steve Harvey is backtracking on recent racist remarks he made towards Asian men.
Steve's meeting with Trump sort of overshadowed the racist joke he said just days before making headlines by meeting with President-elect Donald Trump. The comedian received backlash from the Asian community after targeting Asian men in a string of racist jokes on The Steve Harvey Show last week.
On Tuesday morning, the Family Feud host offered his "humblest apology for offending anyone, particularly those in the Asian community" in a message he posted on Twitter.
"It was not my intention and the humor was not meant with any malice or disrespect whatsoever," the text post wrote.
On the Jan. 6 episode of his show, Harvey mocked a 2002 book titled How to Date a White Woman: A Practical Guide for Asian Men, saying the book should only have a single page, "'Excuse me, do you like Asian men?' No, thank you."
"I don't even like Chinese food, boy. It don't stay with you no time," he continued in a mock-female voice. "I don't eat what I can't pronounce."
In response to Harvey's controversial comments, the Asian-American Fresh Off The Boat author Eddie Huang wrote an op-ed for The New York Times, where he blasted Harvey for promoting "upsetting" stereotypes against Asian men.
"Every Asian-American man knows what the dominant culture has to say about us," he wrote. "We count good, we bow well, we are technologically proficient, we're naturally subordinate, our male anatomy is the size of a thumb drive and we could never in a thousand millenniums be a threat to steal your girl."
"(Harvey) speaks openly about issues facing the black community, he is a man of God, and he has a huge platform to speak from," Huang continued. "For his own personal profit, he's willing to perpetuate the emasculation of Asian men regardless of how hypocritical it is."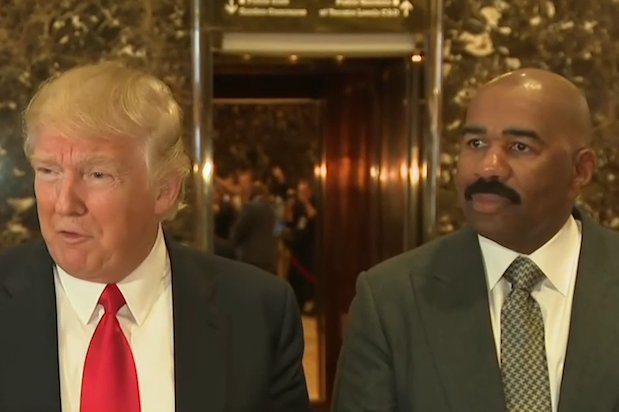 Harvey later explained his meeting with Trump in a tweeted statement. "Our president (Obama) asked that all of us sit down and talk to one another in order to move our country forward," he wrote. "The transition teams on both sides asked me to meet and I'm glad I did."
Since when does Steve Harvey use Twitter so much…….
Source: USAToday