South Carolina has been under fire for the second time this year following the viral video release of a school officer slamming a Black high school student to the ground and dragging her and her desk out of the class.
Following the quick investigation into Monday's incident, the officer, Ben Fields, has now been fired.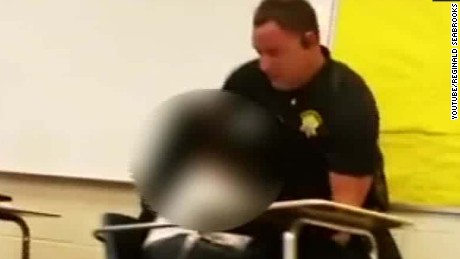 Via: HuffingtonPost
"Deputy Ben Fields did wrong Monday," Lott said, adding that Fields had been terminated from the department roughly 20 minutes before the noon press announcement. The department's investigation into Fields' conduct was complete in just 48 hours.
But even as he announced Fields' firing, Lott appeared to defend the deputy's actions and shift at least some of the blame for the encounter to the student, whom he described as "very disruptive and very disrespectful."
"We must not lose sight that the whole incident was started by this student," he said.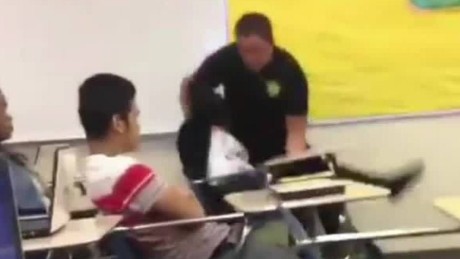 The violent classroom arrest at Spring Valley High School in Columbia prompted a local investigation from the sheriff's department, the state's attorney's office as well as a federal probe into whether Fields, who is white, violated the civil rights of the 16-year-old student, who is black.
Fields' behavior was swiftly condemned by everyone from school officials to presidential candidates. Richland School District 2 Superintendent Debbie Hamm on Tuesday called Fields' actions "outrageous and unforgivable."
Students filmed the encounter in the classroom, and the videos went viral. On Tuesday, Lott called the footage "disturbing," but denied race was a factor because Fields "has been dating an African-American woman for quite some time." On Wednesday, he said he welcomed "people to video us doing our job."
"As in any incident, videos are very useful to us. We're glad that students took the videos," Lott said. But he cautioned that videos are just a snapshot and "don't tell the complete picture."
Fields arrested the teen girl after she reportedly ignored her teacher's order to put away her cell phone. The aggressive discipline is just one example of the school-to-prison pipeline phenomenon, in which black children are more likely to be criminalized for their behavior than their white peers.
Regardless if he dates a Black woman or not, its hard to believe he would of manhandled a white teenage girl the same as he did that Black girl.
We're pretty sure Ben Fields has learned a lesson in reframing from using violence during his policing routines.