NFL player Colin Kaepernick refusal to stand during the playing of the national anthem a few weeks has helped ignite a collective movement in solidarity demonstrations within the NFL to raise awareness on racial inequality and police misconduct in America.
Via: HuffingtonPost
Weeks after San Francisco 49er Colin Kaepernick used the national anthem to protest social inequality, NFL players from around the league got political on Sunday, the 15-year anniversary of the Sept. 11, 2001 terrorist attacks.
Players from the Seattle Seahawks joined arms while standing during the national anthem. Several players from the opposing Miami Dolphins kneeled, as the Denver Broncos' Brandon Marshall had done on Thursday.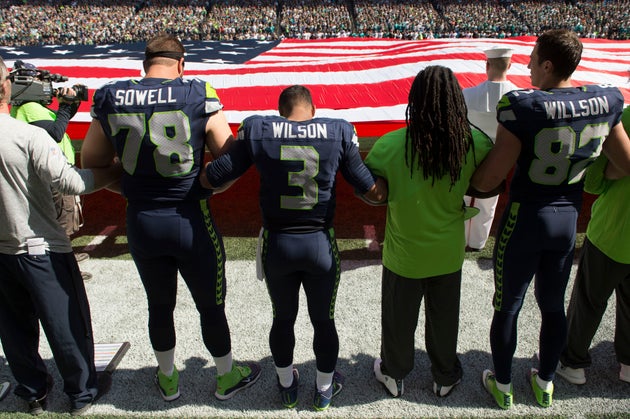 In Sunday's earlier game, the Kansas City Chiefs also locked arms while cornerback Marcus Peters raised his fist into the air.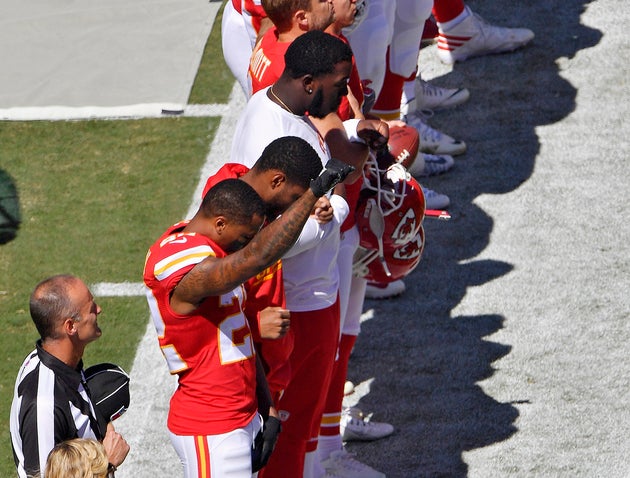 New England Patriots Martellus Bennett and Devin McCourty both raised their fists for the anthem ahead of Sunday's late game against the Arizona Cardinals, as several Tennessee Titans had earlier.
The demonstrations were sparked by San Francisco's quarterback Colin Kaepernick, who opted to sit during the national anthem in protest of the mistreatment of people of color in the U.S., causing an uproar.
"I am not going to stand up to show pride in a flag for a country that oppresses black people and people of color," Kaepernick had told NFL.com's Steve Wyche. "To me, this is bigger than football, and it would be selfish on my part to look the other way. There are bodies in the street and people getting paid leave and getting away with murder."
Earlier in the week, Seahawks wide receiver Douglas Baldwin Jr. revealed over Twitter that the team hoped to "honor the country and flag" at the game. Linebacker Bobby Wagner said that any action would be a "team thing." Details of the planemerged Saturday.
Martin Luther King Jr. once famously said "Hate cannot drive out hate; only love can do that."#BuildABridge pic.twitter.com/n1qP5c2RGM

— Doug Baldwin Jr (@DougBaldwinJr) September 10, 2016
The demonstrations come amid heightened debate over social inequality and concern over police violence ― issues that have caused athletes to speak out with increasing urgency.