Black Girl Magic has officially taken over the 2016 Rio Olympics as 20-year-old Simone Manuel became the first Black woman to ever win an individual gold medal in swimming!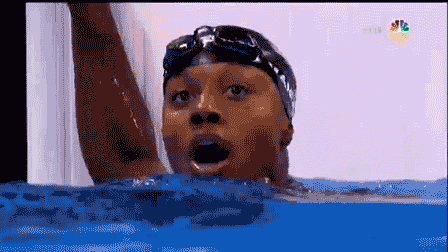 Via: NYTimes
Simone Manuel managed to make history and break a record, all in less than a minute.
Manuel became the first African-American woman to win an individual event in Olympic swimming on Thursday night. She and Penny Oleksiak of Canada tied for the fastest time, an Olympic record in the women's 100-meter freestyle: 52.70 seconds.
"I definitely think it raises some awareness and will get them inspired," Manuel, 20, said about the significance of her accomplishment. "I mean, the gold medal wasn't just for me. It was for people that came before me and inspired me to stay in the sport. For people who believe that they can't do it, I hope I'm an inspiration to others to get out there and try swimming. You might be pretty good at it."
Manuel is sharing a room with another record-setting American swimmer, Katie Ledecky, in the athletes' village here.
The last time an American won gold in the event was 1984, when Nancy Hogshead and Carrie Steinseifer also tied and shared the gold medal with a time of 55.92 seconds.
Several black swimmers have won Olympic medals for the United States. The first black woman to make an American Olympic team was Maritza Correia, a member of the 400-meter freestyle relay team that won silver at the 2004 Athens Games. (Her parents were from Guyana; she was born and raised in Puerto Rico.)
Lia Neal, a Brooklyn native, won a bronze in a relay at the 2012 London Games and a silver in a relay here at the Rio Games. Anthony Ervin and Cullen Jones, who are black, have won Olympic gold medals.
Both Manuel and Oleksiak had to come from behind to take the victory on Thursday night. Manuel was third at the halfway mark, while Oleksiak was seventh at the turn.
At the finish, Manuel looked at the scoreboard and seemed surprised and thrilled, covering her mouth with her hand.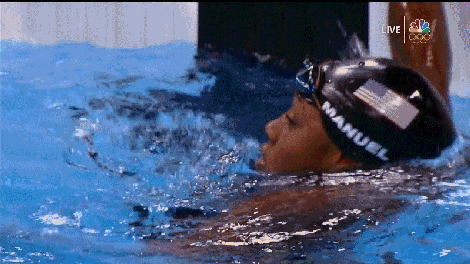 "I was pretty shocked," said Manuel, who is from Sugar Land, Tex., and attends Stanford. "My goal coming in was to get on the medal stand after seeing how I swam in prelims and semifinals. But getting a gold medal in my first Olympics, I still can't describe it but I'm really excited about it."