The first Black President of the United States has officially endorsed the potentially first woman President of the United States.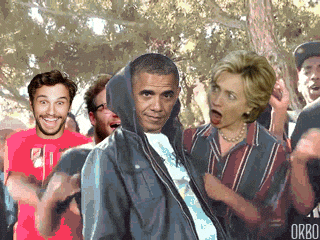 Via: HuffingtonPost
President Barack Obama has endorsed presumptive Democratic presidential nominee Hillary Clinton, signaling he will fight to ensure that she succeeds him in the White House.
Obama made his endorsement via a video released Thursday:
"I want to congratulate Hillary Clinton on making history as the presumptive Democratic nominee for the president of the United States," Obama said in the video.
"I don't think there's ever been someone so qualified to hold this office," he said, adding, "I want those of you who've been with me from the beginning of this incredible journey to be the first to know that I'm with her."
Sen. Bernie Sanders (I-Vt.) met with Obama at the White House earlier in the day, and said afterward during a press conference that he would work to ensure presumptive Republican presidential nominee Donald Trump does not make it to the White House. Sanders did not endorse Clinton or say that he would withdraw from the race.
Obama mentioned Sanders in his endorsement of Clinton, thanking the senator for "shining a spotlight on issues like economic inequality and the outsized influence of money in our politics, and bringing young people into the process."
Obama emphasized that Clinton and Sanders have a shared vision of "the values that make America great."
"Those are the values that are going to be tested in this election," he said.
Clinton thanked Obama for his endorsement in a tweet:
Trump reacted to Obama's endorsement in a tweet Thursday:
Clinton quickly responded to his criticism with a tweet of her own:
Clinton became the presumptive nominee on Monday, exceeding the 2,383 delegates required to be the party's choice on the November ballot, according to The Associated Press. She declared victory Tuesday evening, after winning primary contests in four states and earning a majority of pledged delegates in the race.
Obama has hinted for months that he would endorse Clinton, but said it would be inappropriate to wade into the campaign until she clinched the nomination.
He is set to campaign with Clinton in Green Bay, Wisconsin, on June 15.
Clinton and Obama fought a bruising presidential primary battle in 2008, but mended ties. After conceding the race, Clinton campaigned for Obama in the general election. Obama offered her the secretary of state position, which she accepted after some hesitation. The two eventually developed a working partnership.
Clinton often spoke on the campaign trail of how she put aside her differences with Obama to work in his administration.
"Obviously, I'm excited about having the president's support," she said Monday. "I have said throughout this campaign I was honored to serve in the president's cabinet as his secretary of state."