An amazing new all-natural health and beauty line,
Anna Naturals
, has officially launched their line of healthy skincare and pampering products.
More and more women are realizing the importance of skincare products that are all-natural.  While there are many skincare lines that use natural ingredients, Anna Naturals stands out as the safest and most effective, (without harsh chemicals or synthetic fragrances); but it's also the best smelling!
The all-natural products are a must have for moms, pregnant women, and women everywhere, and they're giving away some free products to four lucky winners!
Unlike other all-natural products on the market, Anna Naturals' health and beauty remedies actually smell and feel good. So good, in fact, that they're downright "naturalicious" – making sure women feel fabulous without sacrificing fragrance or naturally healing ingredients!
Each lotion, scrub, and cream is made with ingredients found in nature.  Not one artificial fragrance, harsh chemical, or synthetic preservative is included – it's just pure, natural, enjoyable skincare.
Because Anna Naturals wants YOU to feel fabulous this summer, they're offering an amazing
Summer Giveaway
of their Naturalicious Pampering Products!
It's easy to participate:
Simply  "LIKE " Anna Natural's Instagram or Facebook page — or both — and add a comment about what product you'd like to try under the official contest announcement post.
A winner will be selected at random to win a gift basket of the below mentioned products!
The winner will be announced on Anna Natural's social channels on Friday, July 1st.
This Fabulous Gift Basket Giveaway will include Anna Naturals….
Cleanse: a Natural Face Mask with super absorbent Bentonite clay and exfoliating pumice
Rosewater + Witch Hazel Toner with hydrating and anti-inflammatory Rosewater to help moisturize, reduce redness and fight acne
Nourish: a Natural Face Mask with Kaolin clay that is softening, calming and great for all skin types
Glow: Whipped Walnut Exfoliating Scrub with naturally scented citrus essential oils and tiny walnut shells powder to exfoliate, moisturize and brighten skin
Pink: Pampering Himalayan Bath Salt that detoxifies, soothes and re-mineralizes the body and improves texture
One lucky winner will receive the Naturalicious Summer gift set, while three additional runners up will also be chosen at random to win one of their preferred products.
More about Anna Naturals:
Made by a mom for moms, owner Kim Roman was inspired to research all-natural remedies when she was pregnant, because of her own need for products that were both safe and pleasant to use.   She wanted her daily health and beauty products to have only the safest and best ingredients, but prior to concocting her own recipes, it was hard to find anything that fit the bill. Through the creation of her own line, Anna Naturals, Roman and her team take great pride in having developed an array of therapeutic and pampering goodies for every stage of womanhood, especially motherhood. Expecting women and new moms can't live without Anna Naturals pregnancy and postpartum solutions.   Kim Roman takes joy in sharing her delicious line of skincare goodies with moms everywhere!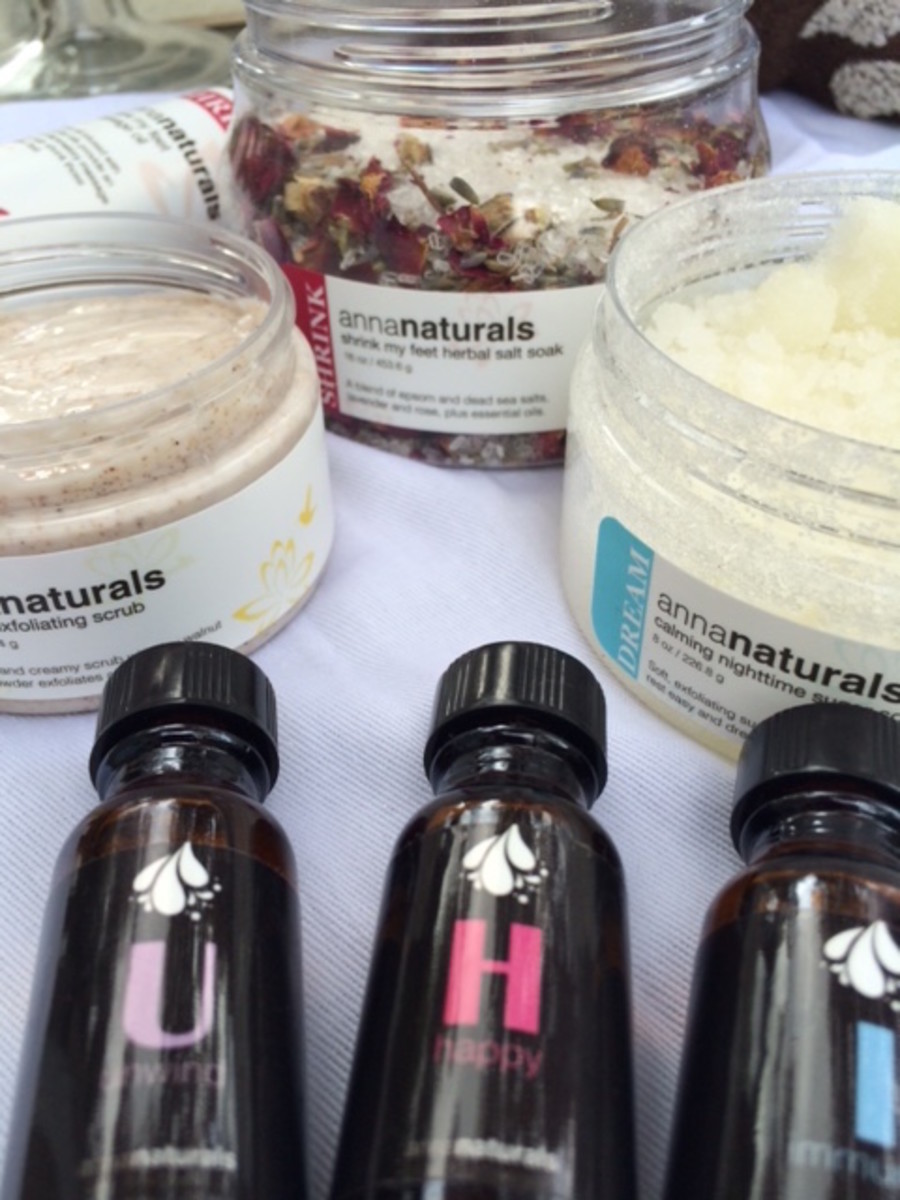 Other Anna Naturals goodies include: Herbal Mama teas, Baby Bump Oil, Anti-aging facial serum, Shrink My Feet Soak, Nipple creams, Uplifting aromatherapy sprays, and more!
Anna Naturals products range from 
$12 to $24
, and are available online at 
www.annanaturals.com
 and are available at Shopko, Destination Maternity and A Pea in the Pod stores.