At a time when Americans are yelling out how much Black Lives Matter, the book "Reach: 40 Black Men Speak on Living, Leading, and Succeeding" helps bridge the gap between the Black men who strive to be motivators and the young Black males who need motivation.
"Reach" is an extremely significant collection of powerful and insightful essays, all written by Black men from all walks of life, with a special focus on sharing their inspiring stories to a demographic who needs it. Each man who wrote for this book became a source of hope for his community, and they want to encourage you to do the same.
"Reach" includes 40 first-person life accounts from some well-known and respected Black male figures. Russell Simmons, Talib Kweli, Rev. Al Sharpton, John Legend, Louis Gossett Jr., and so many other community organizers, entrepreneurs, corporate executives, philanthropists, and educators dedicate themselves to empowering the reader within short 2-3 page essays on their life and rise to success. Challenges were a part of each story, and overcoming challenges followed suit. These remarkable male figures are living proof for the younger generation of Black males on the benefits of following your dreams despite your current reality.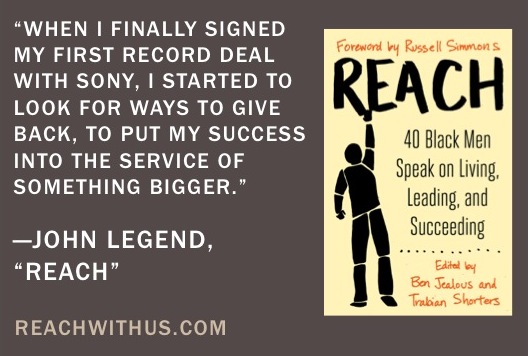 "Reach" acts as a powerful and indispensable resource to our ongoing cultural dialogue and current fight within the #BlackLivesMatter movement. "Reach" destroys myths and stereotypes about Black men being providers for their family and communities, as we get personal recollections from Black men that are as committed as ever to ensuring a better world for themselves and others.
"Reach" is modern day blueprint for better community engagement, and an essential resource for culturally diverse communities everywhere. No matter what you want to be in life, and no matter where you're currently at in your personal life, "Reach" gives you that push you need to get up and be fearless in being great.
If you're one who truly believes and understands why Black Lives Matter, then we urge you to order your copy of "Reach" today. And be sure to pass it on to that young brother you know who needs it. It's time we all start to "Reach" and make way for a better tomorrow for our communities and future generations.