It takes a village to raise a child and NBA Champion LeBron James is helping to do just that for many families within his hometown.
The Ohio native has unveiled two new programs under his foundation that are aimed at getting kids and their parents educated and on the road to a better tomorrow.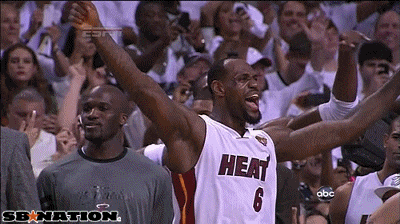 Via: HuffingtonPost
LeBron James has had quite an impressive summer, and for reasons that have nothing to do with basketball.
The Cleveland Cavaliers superstar quietly announced yet another academic partnership last week — one that will provide support for parents of children in his academic mentorship program who want to obtain their GEDs.
James and the University of Akron made waves last month when they announced that they had partnered to provide four-year scholarships to qualifying students in James' "I PROMISE" program — a partnership that could help an estimated 2,300 children.
Now, James has partnered with Project Learn of Summit County, an organization dedicated to adult education, to make sure he's helping the parents of the children, as well. The partnership will provide parents who have enrolled their children in the LeBron James Family Foundation's mentorship with support in obtaining their GEDs.
The "I PROMISE, Too" program, as it's called, covers class and test fees and provides free bus passes and tablets. (Additional prizes are available for good work.)
"We are so excited about the I PROMISE, Too program because a huge part of our Foundation's work centers around parent involvement," Michele Campbell, the executive director of the LeBron James Family Foundation, said in a press release. "This is an opportunity to help our parents make strides in their own academic careers so they are better equipped to help our students keep their educational promises."
"We can't reach our students without their parents' support, so this program is monumental for our families and their futures," she added.
This is truly heartwarming to see someone with so much love for his city go back home and help the community in such major ways. You can't deny that LeBron is the man for this.