Lousiana rapper Kevin Gates will be away from his wife and daughter this holiday season as the "Really Really" emcee was recently sentenced to 180 days in jail after a jury found him guilty of a misdemeanor battery on a fan.
The charges stem from an August 2015 incident in which the 30-year-old rapper was seen on camera kicking a woman in the chest during his concert in Lakeland, Florida.
Gates had originally plead not guilty and insisted he was simply defending himself against an "aggressive" fan, Miranda Dixon, under Florida's "Stand Your Ground" law.
Gates claimed that the victim was trying to pull him off stage when he was forced to defend himself by kicking her in the chest. When his attempts to get her to stop failed, he claims that he used "necessary force" to protect himself.
Gates attorney Jose Baez used another defense that claimed Gates' foot didn't actually touch Dixon, and that she was simply attempting to gain damages in an upcoming civil trial.
The jury of six white women were not impressed and found Gates guilty of misdemeanor battery. The judge also did not seem sympathetic to Gates defense and rejected the state's request for 60 days in jail, with one year of probation and mandatory anger management classes, opting instead to triple the sentence for the young rapper.
Kevin's wife Dreka Gates has since taken to Instagram to sound off on the verdict of her husband' sentence.
Yikes! How does Stand Your Ground law work for white male murderers and not unarmed Black male entertainers……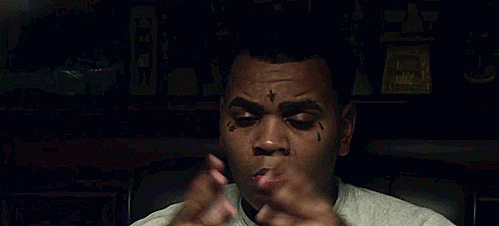 Prayers up for Kevin. We're sure he'll have some dope music waiting for us when he gets out.
Source: BET