As a blogger and follower of mainstream media I'm naturally deeply involved with the current events as they relate to society.
With us being only one year away from a major Presidential election it really pisses me off to see the current coverage, or lack there of, on the upcoming Presidential election. Either they're putting too much coverage on the candidates who don't matter, or they're not covering the potential candidates at all.
As a Black millennial I hear so many people within our demographic talk so much crap about how society works to keep us down. As true as that is, the one thing we actually have the power to do is speak up and speak out against what we believe. The Black Lives Matter movement is working hard to shake the potential Presidential nominees  up, and get them to take a stance on the issues that affect their movement.
MaseTV is an Urban Entertainment blog so I'm putting more emphasis on coverage of the Democratic candidates as I've come to terms with the fact that Republicans could honestly give two shits about issues that don't center around people that look like them. I watched the recent Republican Primary Presidential debates and saw first hand how an entire party is more concerned about how to get Mexicans out of America than focus on the real serious issues of climate change, economic inequality, gender wage gap, police brutality against Black communities, the lack of trust between the police and society, and so much more.
So if its apparent that Republicans aren't concerned with issues as they relate to minorities and the other 99%, then why the fu*k do I keep seeing all the other major Urban blogs either not covering the Democratic candidates, or only covering fluff stories on Donald Trump?!
People are looking to blogs for real news. We all know that major television networks are owned by paid off executives who sway the news in their favor. The blogs are the one who give out raw unfiltered information to the public because they have no one to answer to. So why are we not educating our Urban communities on the candidates who are in favor of fighting for the issues we care about? Will we start to care once its too late?
President Obama will be preparing to leave office around this same time next year. So who will be the potential candidate to take his place…..Donald Trump?!
I personally think Urban blogs should be putting more focus behind the candidates who are going to best represent us. Bernie Sanders just released a detailed policy plan on how he plans to combat institutionalized racism, create free 4 year colleges for students, improve climate change efforts, tackle income inequality, and call out the real criminals on Wall Street.
But we rather keep our people focused on Donald Trump's hair, or Hillary Clinton's recent heated meeting with Black Lives Matter activists.
I will work hard to keep the MaseTV educated on the Presidential election as it pertains to the issues we care about. Just know that someone has got you covered.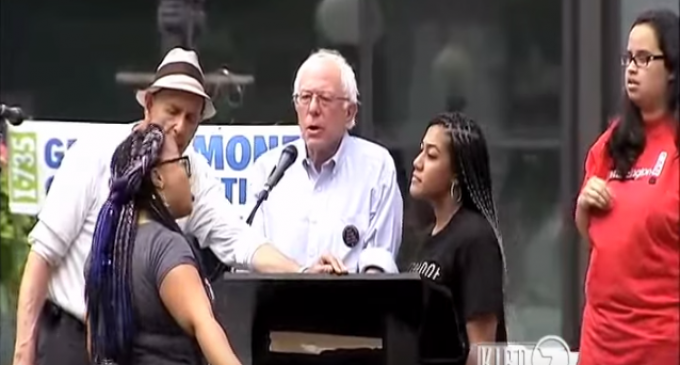 Let me know what you think below. Do you agree or disagree, and why or why not?
Don't be afraid to Be Bold. Stand Out. Make A Statement.