Hillary Clinton is picking up right where she left off in the 2008 Presidential election by continuing her pledge for an affordable health care system in America for those who need it most.
Hillary's "Hillarycare" healthcare plan works to improve the setbacks Obamacare left on many of its subscribers.
Via: HuffingtonPost
Hillary Clinton wants to tackle one of the biggest items of unfinished business in health care reform by offering policy proposals she says will help patients with high and rising out-of-pocket costs.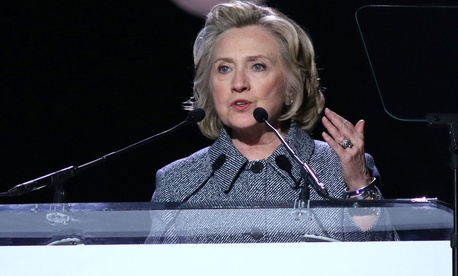 In a summary of those plans issued Wednesday, Clinton's campaign vows to preserve the Affordable Care Act while adding new benefits like a tax credit for households with the highest out-of-pocket costs and protections against surprise medical bills.
Clinton previewed her health care proposals on Tuesday during an event in Des Moines, Iowa, that was mostly focused on her policies seeking to reduce prescription drug costs.
"I will defend the Affordable Care Act, but as president I want to go further," Clinton said. "I want to strengthen the Affordable Care Act, because the truth is, it couldn't and it didn't solve all of our problems."
By both backing President Barack Obama's most significant domestic policy achievement while also acknowledging its shortcomings and pledging to improve it, Clinton is, in a way, returning to her roots and reclaiming ownership of a signature issue.
The Obama administration has cited successes of the law, including extending health coverage to  an estimated 17.6 million previously uninsured people since 2013, and overseen  a historic slowdown in the speed on health care spending growth. But out-of-pocket costs like high deductibles and big copayments are  becoming increasingly common in both job-based health plans and those bought on the Obamacare exchanges, and can squeeze household budgets and make health insurance itself seem less valuable.
"Yes, the uninsured rate is the lowest in decades, but the cost of prescription drugs went up by over 12 percent last year. Your income, I'd bet, didn't go up 12 percent," Clinton said Tuesday. "Meanwhile, other out-of-pocket costs are growing, too, and the insurance companies just keep raising the premiums. So while the overall growth in health care spending has slowed — and that's good news for our economy — for a lot of families, it doesn't feel like health care costs are coming under control."
A linchpin of Clinton's plan is a tax credit worth up to $5,000 that would be made available to households with out-of-pocket health care costs that exceed 5 percent of their income in a year, which she would finance by cutting federal spending on prescription drugs. To make high-deductible insurance more useful to consumers with modest health care needs, Clinton proposes requiring insurers to cover three doctor visits a year outside the deductible.
Clinton also calls for new rules that would protect patients against unexpected bills incurred during a medical emergency when a provider at the hospital isn't in the patient's insurance network even though the hospital itself is. Other elements of her plan include promising better and more up-to-date information about what health care providers and prescription drugs are covered by insurers, increased federal authority to block large health insurance premium hikes and stricter oversight of mergers between health care companies.
Using the Affordable Care Act as the foundation for her health care proposals sets Clinton apart from her rival for the Democratic nomination, Sen. Bernie Sanders (I-Vt.). Although Sanders voted to enact the law in 2010 and has not wavered in his support for its achievements, he is an outspoken advocate for replacing the current health care system with a single-payer program akin to those in most other rich nations.
Clinton also is taking aim at the Republican presidential field and their counterparts in Congress, who remain steadfastly committed — rhetorically, at least — to undoing Obamacare more than five years after it became law.
"Apparently, they're going to keep voting to repeal it," Clinton said Tuesday. "It doesn't matter what the facts are, they are partisan ideologues and they're going to keep trying to tear it up and force us back into a debate about health care. Well, politics can be, unfortunately, a pretty cynical business but this really goes further than I can tolerate."