Video has finally been released of Democratic presidential candidate Hillary Clinton's private meeting with Black Lives Matter activists in New Hampshire last week.
The video shows a slightly heated exchange between Clinton and the activists who ask about her former involvement with laws that unfairly targeted Black communities.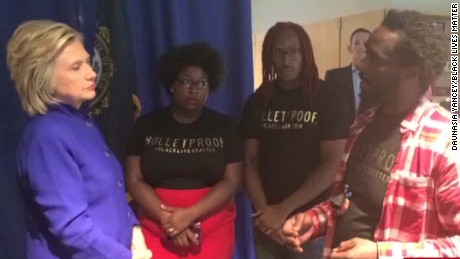 Clinton offers no real solution of her own and instead suggests that the activists need to create their own strong policy goals if they want to create real change. Clinton makes reference to the women's and gay rights movements as a comparison.
One of the activists takes issue with her comments. "This is and has always been a white problem of violence. There's not much that we [black people] can do to stop the violence against us," Julius Jones of Black Lives Matter tells Clinton.
Clinton pushes back: "Respectfully, if that is your position, then I will only talk to white people about the very real problems."
Here is part 2 of the meeting where Hillary seems offended by the activists' remarks on racial injustice in America and says she will "only talk to white people about the very real problems in America".
Hmmmm so while Bernie Sanders has released an official policy plan to combat racial inequality in America, his opponent Hillary Clinton is telling Black Lives Matter activists to create their own policies that they want put in place????
Do you think Hillary Clinton understands the purpose of the #BlackLivesMatter movement? Do you think she would be an advocate for racial equality if elected President? #MakeAStatement