President Barack Obama made a case for his legacy during his farewell speech to the nation on Tuesday night.
Obama made sure to address his many accomplishments while in office, the variety of historical moments he was able to witness, all while telling the country that he will help Donald Trump make a smooth transition to becoming Commander in Chief. The speech did much to encourage Americans to take more of an active role in civil service.
Highlighted quotes include: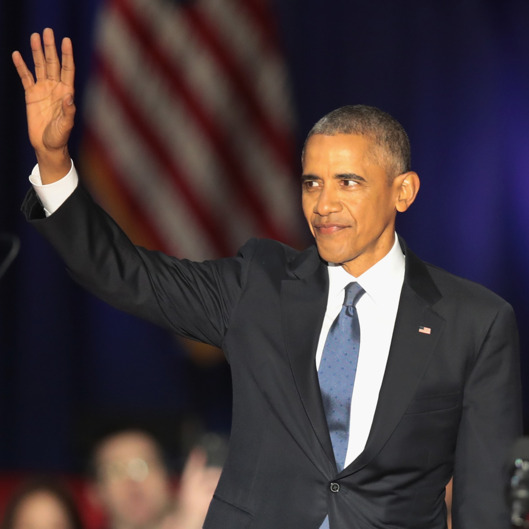 Yes, our progress has been uneven. The work of democracy has always been hard, contentious and sometimes bloody. For every two steps forward, it often feels we take one step back. But the long sweep of America has been defined by forward motion, a constant widening of our founding creed to embrace all, and not just some.

If I had told you eight years ago that America would reverse a great recession, reboot our auto industry, and unleash the longest stretch of job creation in our history…if I had told you that we would open up a new chapter with the Cuban people, shut down Iran's nuclear weapons program without firing a shot, and take out the mastermind of 9/11…if I had told you that we would win marriage equality, and secure the right to health insurance for another 20 million of our fellow citizens – you might have said our sights were set a little too high.

In ten days, the world will witness a hallmark of our democracy: the peaceful transfer of power from one freely-elected president to the next. I committed to President-Elect Trump that my administration would ensure the smoothest possible transition, just as President Bush did for me. Because it's up to all of us to make sure our government can help us meet the many challenges we still face.

Understand, democracy does not require uniformity. Our founders quarreled and compromised, and expected us to do the same. But they knew that democracy does require a basic sense of solidarity – the idea that for all our outward differences, we are all in this together; that we rise or fall as one.

Our democracy won't work without a sense that everyone has economic opportunity. Today, the economy is growing again; wages, incomes, home values, and retirement accounts are rising again; poverty is falling again. The wealthy are paying a fairer share of taxes even as the stock market shatters records. The unemployment rate is near a ten-year low. The uninsured rate has never, ever been lower. Health care costs are rising at the slowest rate in fifty years. And if anyone can put together a plan that is demonstrably better than the improvements we've made to our health care system – that covers as many people at less cost – I will publicly support it.

And so we must forge a new social compact – to guarantee all our kids the education they need; to give workers the power to unionize for better wages; to update the social safety net to reflect the way we live now and make more reforms to the tax code so corporations and individuals who reap the most from the new economy don't avoid their obligations to the country that's made their success possible. We can argue about how to best achieve these goals. But we can't be complacent about the goals themselves. For if we don't create opportunity for all people, the disaffection and division that has stalled our progress will only sharpen in years to come.

Going forward, we must uphold laws against discrimination – in hiring, in housing, in education and the criminal justice system. That's what our Constitution and highest ideals require. But laws alone won't be enough. Hearts must change. If our democracy is to work in this increasingly diverse nation, each one of us must try to heed the advice of one of the great characters in American fiction, Atticus Finch, who said "You never really understand a person until you consider things from his point of view…until you climb into his skin and walk around in it."

For blacks and other minorities, it means tying our own struggles for justice to the challenges that a lot of people in this country face – the refugee, the immigrant, the rural poor, the transgender American, and also the middle-aged white man who from the outside may seem like he's got all the advantages, but who's seen his world upended by economic, cultural, and technological change.

For white Americans, it means acknowledging that the effects of slavery and Jim Crow didn't suddenly vanish in the '60s; that when minority groups voice discontent, they're not just engaging in reverse racism or practicing political correctness; that when they wage peaceful protest, they're not demanding special treatment, but the equal treatment our Founders promised.

For native-born Americans, it means reminding ourselves that the stereotypes about immigrants today were said, almost word for word, about the Irish, Italians, and Poles. America wasn't weakened by the presence of these newcomers; they embraced this nation's creed, and it was strengthened.

None of this is easy. For too many of us, it's become safer to retreat into our own bubbles, whether in our neighborhoods or college campuses or places of worship or our social media feeds, surrounded by people who look like us and share the same political outlook and never challenge our assumptions. The rise of naked partisanship, increasing economic and regional stratification, the splintering of our media into a channel for every taste – all this makes this great sorting seem natural, even inevitable. And increasingly, we become so secure in our bubbles that we accept only information, whether true or not, that fits our opinions, instead of basing our opinions on the evidence that's out there.

My fellow Americans, it has been the honor of my life to serve you. I won't stop; in fact, I will be right there with you, as a citizen, for all my days that remain. For now, whether you're young or young at heart, I do have one final ask of you as your President – the same thing I asked when you took a chance on me eight years ago.

I am asking you to believe. Not in my ability to bring about change – but in yours.

I am asking you to hold fast to that faith written into our founding documents; that idea whispered by slaves and abolitionists; that spirit sung by immigrants and homesteaders and those who marched for justice; that creed reaffirmed by those who planted flags from foreign battlefields to the surface of the moon; a creed at the core of every American whose story is not yet written:

Yes We Can.

Yes We Did.

Yes We Can.

Thank you. God bless you. And may God continue to bless the United States of America.
Watch the Full Speech Below: