A former NFL player was shot dead in New Orleans by a 54-year-old white male following a road rage incident where all witnesses say the athlete was apologizing to the man before he lost his life.
The murdered has now been released from police custody and facing no charges after he murdered someone in broad daylight.
Via: TMZ
Ex-NFL running back Joe McKnight was murdered in a road rage shooting in the New Orleans area … law enforcement tells TMZ Sports.
The incident occurred at 2:43 PM. Family members identified the 28-year-old at the scene.
A witness told NOLA.com … she saw McKnight trying to apologize to another man after some sort of traffic incident.
The witness says the man then pulled out a gun and shot McKnight — and while standing over him screamed, "I told you not to f*** with me" … then fired another shot into his body.
McKnight was a high school phenom — considered the best running back in the country.
He played college ball at USC. He was drafted by the NY Jets in 2010.
In a statement to TMZ Sports, the Jets said, "Joe McKnight was a loving father and a genuine, kind-hearted person. It is sad when life is taken in what appears to be such a senseless act of violence. Joe you will be missed."
Joe was currently playing for the Saskatchewan Roughriders in the Canadian Football League.
Roughriders president and CEO Craig Reynolds issued a statement saying, "We are saddened to hear of the tragic loss of Joe McKnight. Losing a member of our Rider family this way is an unthinkable occurrence. Our thoughts and prayers are with Joe's family, teammates and coaches."
Cops say they have detained a man they believe to be the shooter — 54-year-old.
Cops say McKnight did NOT have a gun at the time of the shooting.
Emergency responders tried to administer CPR but to no avail.
TMZ later reported that Gasser had been released from custody with no charges having been filed yet.
A rep stated that 54-year-old Gasser was questioned and released "sometime overnight" after officials believed they had no reason to hold him any longer.
The Sheriff's Dept. tells us … Gasser "definitely" shot the ex-NFL running back — but there are "questions about the circumstances surrounding what led up to it."
The rep tells us the investigation is still very much open and the case could go to the grand jury or the district attorney, which will decide whether or not charges should be filed.
Joe McKnight's CFL teammates are "in total disbelief" he was killed in a road rage incident … with one member of the squad telling TMZ Sports McKnight was "the coolest dude ever" and would never get violent.
We spoke to Jeff Knox — the starting middle linebacker for the Saskatchewan Roughriders of the CFL — who tells us the team was shaken to the core when they heard the sad news.
"We have a team group chat, no one believed it at first. I was like NO WAY this could happen to Joe, the guy never looked for any trouble, just wanted to play football and get home to his kids."
Witnesses say McKnight was actually attempting to apologize to his gunman before he was killed … and, according to Knox, that's exactly who he was.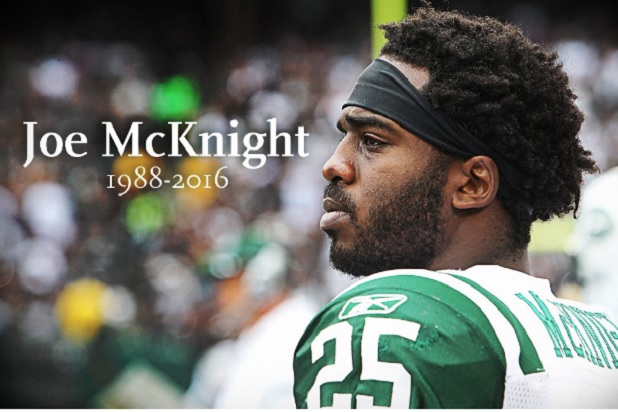 "He might have saw his hair and thought he was just some random hoodlum, not knowing he was a pro athlete with a family. I never met a nicer guy, we used to go at it on the field, if he ever cut me, or blocked me wrong he apologized."
Prayers are with Joe's McKnight's family and loved ones during this tough time. But let's first figure out how the hell this man who murdered someone in broad daylight was able to be released with no charges against him?!