As we welcome November, many Americans are faced with the daunting reality that it's that time of year to go health insurance plan shopping for 2017.
With only a week away to Election Day, and one month away of the enrollment deadline for effective coverage for Jan 1st, 2017, it's time to do the necessary research on what options you have for receiving healthcare in 2017.
Via: HuffingtonPost
The health care reform law known as Obamacare faces another crucial stretch starting Tuesday, when the three-month sign-up period for next year's insurance coverage begins.
The fourth such enrollment period since the exchange marketplaces went online starts amid headlines about escalating sticker prices under the Affordable Care Act and during an election year that has shoved the unpopular, widely misunderstood reform law back into the spotlight.
More than six years have passed since President Barack Obama signed the Affordable Care Act into law, leading to 20 million previously uninsured people gaining coverage and the uninsured rate falling to an all-time low, as well as the end of insurance industry practices like rejecting individuals with pre-existing conditions.
But the law has also made coverage more expensive for certain people whom the exchanges are meant to serve, and insurance companies that lost money on Obamacare have pulled back, reducing choice for consumers in many states.
Politicians are still debating the way forward. Democratic presidential nominee Hillary Clinton aims to strengthen Obamacare by providing more financial assistance and creating a government-run public option plan. Her GOP opponent, Donald Trump, and congressional Republican leaders want to scrap the ACA entirely and implement much more modest reforms that, among other results, would eliminate health coverage for millions of people.
While that endless argument continues, the future of the exchange marketplaces themselves could be determined during the open enrollment period that runs from Nov. 1 through Jan. 31. The deadline for obtaining coverage that will be in place on Jan. 1, 2017, is Dec. 15.
This is the final sign-up campaign for the Obama administration before it turns the reins over to the next president. Federal and state officials will scramble to enroll as many people as possible, in hopes of growing the exchanges and, especially, bringing in more younger and healthier customers to offset the costs of older and sicker people. If they succeed, these new markets could be shored up for the coming years, making them an appealing place for insurers to do business and for consumers to find coverage.
Beyond the politics, exchange customers are facing some very real practical concerns. So this open enrollment period provides an opportunity to go over the basics of what the Affordable Care Act does for them.
Health insurance exchanges serve two main purposes.
The original idea behind these marketplaces was to make it easier for consumers to compare the costs and benefits of private insurance policies. Exchange websites like HealthCare.gov and Covered California may not be as simple to use as Amazon ― and health insurance is inevitably more complicated to buy than airline tickets ― but comparison shopping was more difficult before.
The other, and more crucial, role of the exchanges is to connect individuals and families with the financial assistance that can reduce their health insurance costs and even out-of-pocket expenses, or to direct people toward government programs like Medicaid for which they qualify.
The exchanges aren't for most people.
About half of Americans obtain health insurance from employers, and most of the remainder are covered by government programs like Medicare and Medicaid. The health insurance exchanges, and the overall market for individual and family policies, are for people who don't get health benefits at work or through one of those public programs.
That's not very many individuals. The Congressional Budget Office projects that 21 million people next year will be covered by policies obtained through an exchange or "off-exchange" (that is, purchased directly from an insurer or through a broker). This amounts to less than 7 percent of U.S. residents.
Premiums are going up ― in some cases, by a lot.
According to the U.S. Department of Health and Human Services, the average premium increase under the exchanges' "benchmark" plans is 25 percent in the 39 states where the federal government runs the exchanges via HealthCare.gov. (Benchmark plans are the midlevel policies used to set the size of Obamacare subsidies for eligible households.) That's high, and significantly higher than the rate hikes of the previous two years. In those 39 states, the average monthly premium for the least-expensive policies at each "metal" level ranges from $366 for "bronze" coverage to $674 for "platinum," not including subsidies.
Insurance companies are raising prices because many of them lost money during the first three years of the exchanges. The customer base turned out to be sicker and costlier than expected ― and smaller, too ― which has led to the big rate hikes many people will see. Temporary provisions of the Affordable Care Act designed to financially protect insurers that enrolled a disproportionate share of sick people are also expiring this year.
That doesn't mean all insurance on the exchanges is going up 25 percent, or even that all plans will go up. The benchmark plans are important because of their connection to the subsidy amounts and because plans like those, in the midlevel "silver" category, are the most popular.
But that average increase is higher in some states than others, and prices will vary between "bronze," "silver," "gold" and "platinum" plans. And some states that run their own exchanges, like California and Washington state, are seeing average premium increases that are lower than in many of the states with federal exchanges.
Not everyone will pay those higher prices.
The Affordable Care Act created tax credits for low- and moderate-income individuals and families. They're available on a sliding scale to people who earn between the federal poverty level and four times that amount ― or about $12,000 to $47,000 for a single person, and about $24,000 to $97,000 for a family of four. That's why 77 percent of marketplace consumers could find plans that cost $100 a month or less and 65 percent could choose policies for $50 a month or less, according to the Department of Health and Human Services.
Federal officials expect that 13.8 million people will choose plans during this open enrollment period ― most of them current customers renewing coverage ― and that the average monthly enrollment next year will be 11.4 million people. Of those, about 85 percent will qualify for tax credits, which can completely shield many customers from rate increases.
That's because the subsidies are tied to household income in a way that effectively caps the percentage of a family's earnings that can go toward health insurance, with the federal government picking up the rest. The cap ranges from 2 percent to 9.5 percent of income.
The tax credits get less and less generous the higher a household's income is. But since about 80 percent of exchange customers earn less than 250 percent of the poverty level, they qualify for big tax credits and additional subsidies that reduce out-of-pocket costs like deductibles and copayments.
Some people will see big premium hikes.
Those exchange customers with incomes higher than 250 percent but lower than 400 percent of the poverty level usually qualify for smaller subsidies. Plus, there are about 2 million exchange customers who receive no subsidies and as many as 9 million who buy unsubsidized policies off-exchange. This is the segment of the market facing the worst potential hardship.
These people will have little to no protection against rate hikes, especially if they live in a geographic area with limited ― or zero ― competition between insurance companies. The number of people in this situation who can't afford the higher prices and drop out to become uninsured will be key to the future of this part of the health insurance system ― and the politics of health reform.
The Obamacare mandate penalty is likely higher than you think.
Arguably the least popular thing about the Affordable Care Act is its individual mandate that nearly every U.S. resident must have health insurance. While there are a slew of exemptions, most people who have access to insurance but don't buy it next year will owe the Internal Revenue Service when they file their 2017 tax returns.
The minimum penalty is around $700, but it's likely to be higher than that for the majority of households. That's because the penalty is also calculated as a percentage of income, and taxpayers owe the higher of that number or $700. So a person earning $100,000 would pay 2.5 percent of about $90,000 (approximately $10,000 isn't counted). That's $2,250.
Shopping around can save money, and there's help out there.
Exchange officials are urging all consumers to do their research, because the best deal for 2016 isn't necessarily the best deal for 2017.
People whose insurance companies have pulled out of their home markets, of course, will be forced to switch insurers. But the Department of Health and Human Services estimates that subsidized exchange enrollees could actually spend 20 percent less next year than this year by choosing the cheapest policy available with the same level of coverage they currently have.
Shopping around has limits, however. Overall, there are 167 insurers on the exchanges for next year, which is 68 fewer than this year. In five states, a single insurer is the only option available to exchange customers.
Switching one's insurance company from year to year is a hassle. It can also mean losing access to certain doctors, hospitals and other medical providers, which can be especially difficult for people with chronic health conditions or in the midst of a course of treatment.
There are federal and state programs that employ enrollment counselors who can help consumers navigate all these complicated choices. Insurance agents and brokers can also assist.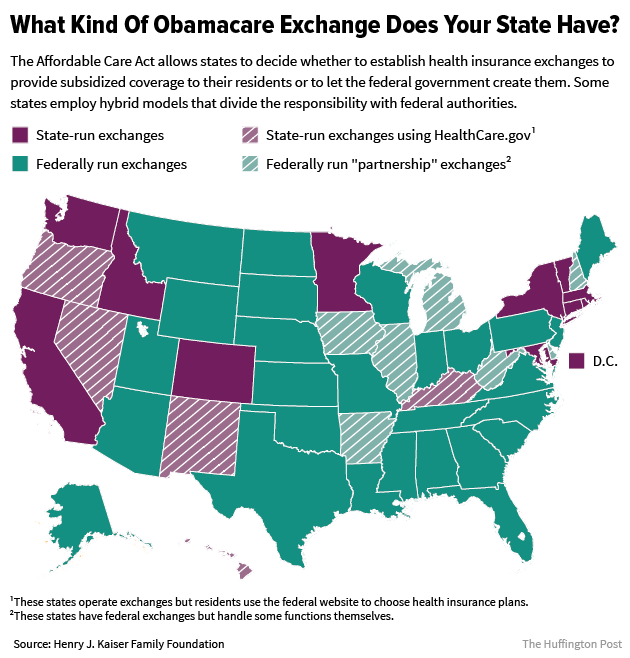 This article has been updated to include additional information about the prices for