Republican Presidential hopeful Donald Trump has made quite the name for himself for being one of the biggest loud mouth pinheads within this Presidential race.
It looks like Donald has no plans of slowing down is racist idiotic remarks anytime soon. The Presidential frontrunner recently retweeted a photo that included some insanely wrong statistical date on the Black murder rates in America.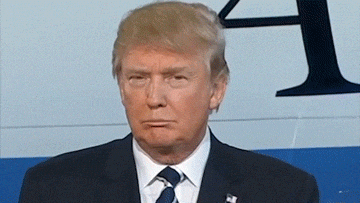 Via: WashingtonPost
On Sunday morning, Donald Trump told Fox News that a Black Lives Matter protester who was assaulted at a rally in Alabama on Saturday "maybe … should have been roughed up" for interrupting. The Black Lives Matter movement began in the wake of a series of deaths of black men at the hands of police.
On Sunday afternoon, Trump retweeted a graphic dealing with the same issue that was also contentious — and quickly revealed as erroneous.
That is not true. According to data from the FBI, most whites are killed by whites, as most blacks are killed by blacks. There's an obvious reason for that: Most people are killed by someone they know — as is the case in 78.1 percent of homicides between 1980 and 2008, as we've noted before — and most people are related to and live near people who are of the same race as themselves.
That data is from 2014, the most recent available. Data on 2015 is, of course, still incomplete.
It is also worth noting that there isn't reliable data on the number of black and white Americans killed by police in 2014. The Washington Post has been tracking reports of police killings in 2015 because there isn't good national data on the subject. So far this year, 873 people have been killed by police, 25 percent of whom were black and 47 percent of whom were white.
And, finally, there doesn't appear to be any such organization as the "Crime Statistics Bureau." There is a Bureau of Justice Statistics, which is a federal organization and is, therefore, based in Washington.
Stuff like this takes away from our excitement about the Presidential race. How can confident idiots like this get so close of a chance at possibly running our Country.
What does this say about us as a society? SMH #FixItJesus