Following a week of bloodshed in America, on Wednesday night, relatives of slain Dallas police officer Patrick Zamarripa and Quinyetta McMillon, and the mother of Alton Sterling's teenage son, sat side-by-side, tears in their eyes, at a CNN town hall moderated by Don Lemon to discuss how a divided nation moves forward.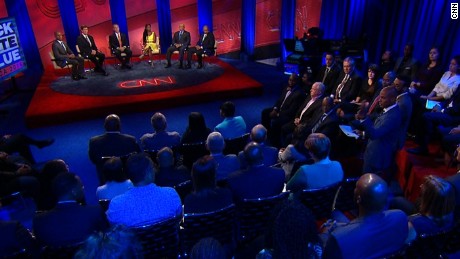 Via: CNN
America is reeling after a heart-wrenching Independence Day week.
Late Wednesday, relatives of slain Dallas police officer Patrick Zamarripa and Quinyetta McMillon, the mother of Sterling's teenage son, sat side-by-side, tears in their eyes, at a CNN town hall moderated by Don Lemon to discuss how a divided nation moves forward.
"We had no clue who we were," McMillon, whose son Cameron earlier made a personal appeal for peace in Baton Rouge, said of the people sitting with her. "No clue whatsoever. We just started talking. … This is our unity right here."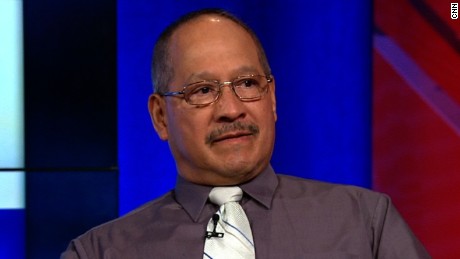 In tears, the slain officer's father, Enrique Zamarripa, referred to the endless cycle of violence ripping America apart: "This has got to stop."
Early in the discussion, former Chicago police superintendent Gary McCarthy responded to a question about why many officers perceive young African Americans as dangerous by saying that the overwhelming majority of murder victims, as well as the offenders who committed them are black.
Police interactions are at the center of the heated debate in a nation grappling with a racial divide wider than it has been for at least a generation. Some audience members chided police for what they said were the legitimate grievances of African-Americans to systemic racial bias.
Mark O'Mara, the CNN legal analyst who successfully defended George Zimmerman during his second-degree murder trial in the shooting death of Trayvon Martin, said there is "no question that when a cop, most cops, enter into a situation, they treat the person they're dealing with differently based upon the color of their skin."
"We can make believe that we're not going to say that because it's not politically correct," he said.
Charles Blow, an Op-Ed columnist, gave the example of the way police stops were handled in New York, which he called "immoral and unconstitutional."
"At the height of stop-and-frisk in New York City, they were stopping and frisking more young black and brown men than there were black and brown, young black and brown men in the city," Blow said.
"That meant that somebody was getting more than one stop. That meant that if my two sons got no stops, somebody took a stop or two or three for them. And do not let anyone kind of convince you that this was some polite, officer friendly encounter."
Sharay Santora, a hairstylist, cried as she talked of the fear she has every moment her teenaged son is away from her.
Dimitri Roberts, a former Chicago police officer, embraced her and apologized.
"I'm sorry that we have not fulfilled our … responsibility to you and this community and your children," he said.
The discussion reflected the broader struggles of a country coping with the boiling over of racial unrest that has been brewing for years.
Those tensions came to head last week.
Sterling, a 37-year-old father of five, was shot dead early July 5 outside the Triple S Food Mart in Baton Rouge. A graphic cell phone video of the shooting was shared widely on social media, quickly sparking local protests and drawing national attention. Federal authorities have taken charge of the investigation.
Mourners and protesters have demanded justice in the case, distraught over the death of the man known for selling music and videos in the store parking lot where he died.
A 911 call revealed that police responded to the scene after a homeless man claimed someone had pulled a gun on him outside the convenience store.
Castile was fatally shot by a police officer in Falcon Heights, outside Minneapolis. His fiancée, Diamond Reynolds, livestreamed the shooting's aftermath, with the officer right outside the couple's car, his gun still trained on a dying Castile.
Shortly after St. Anthony Police officer Jeronimo Yanez shot Castile, Reynolds recorded graphic images of a bloody Castile moaning in pain as he took some of his last breaths. Her daughter, 4, witnessed the shooting from the back seat.
"I wanted it to go viral so the people could see," Reynolds later said. "I wanted everybody in the world to see what the police do."
A week ago Thursday, 12 Dallas police officers were shot — five fatally — in the deadliest incident for U.S. law enforcement since 9/11. The shootings occurred after a peaceful protest against the police-involved shootings.
The shooter, Micah Xavier Johnson 25, a Mesquite, Texas, veteran who served in Afghanistan, was killed after a standoff with police.
Dallas residents responded with an outpouring of kind acts and support for its cops. Mourners left flags, candles, flowers, balloons and messages of support outside the city's police headquarters.
The dead officers were Brent Thompson, a Dallas Area Rapid Transit officer; Zamarripa, 32, a U.S. Navy veteran who was deployed to Bahrain as part of the Iraq War effort; Michael Krol, whose lifelong dream was to be a cop; Lorne Ahrens, 48, who was remembered as a great co-worker; and Michael Smith, 55, described as a devoted family man and father of two daughters, ages 14 and 9.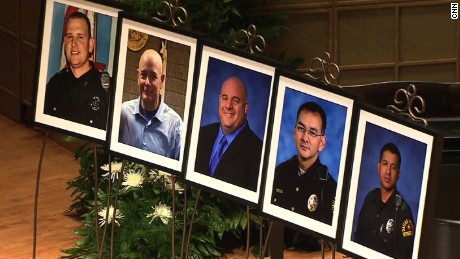 Bishop T.D. Jakes of The Potter's Church in Dallas said he was touched by the pain shared by the families on stage. This was a first step in steadying a reeling country, he said.
"In order to have real lasting peace that vindicates the tremendous loss that you see on this stage today, we have to have peace and justice collaboratively," he said. "And I don't think that we can really have one without the other. I think that we can have justice and there's a sharp difference between justice and vengeance."
Sgt. Bret Barnum, a white police officer whose widely-circulated photo hugging a young black demonstrator at a protest in Ferguson last year, said he could not have turned his back to the boy.
"He is looking for resolve in his own heart and I happen to notice him," Barnum said of the boy. "I could have looked away. But … I'm a police officer and I'm here to help my community. I tried to provide that to him."
Listen to audio of the full town hall below and head over to CNN for more video exerpts from the powerful discussion.