The Country Music Awards are attempting to do some damage control following a racist/prejudice backlash over Beyonce's iconic performance alongside the Dixie Chicks.
Queen Bey graced the CMA stage on Wednesday night performing "Daddy Lessons" from "Lemonade" with help from platinum-selling country music trio the Dixie Chicks.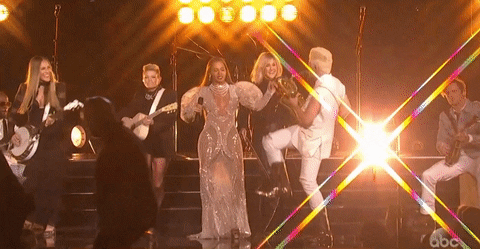 The crowd seemed all too pleased with the performance…..aside of Kenny Chesney that is.
But it was the backlash on Twitter following the performance that seemed to put the CMAs at odds with further promoting the stellar moment that the Dixie Chicks shared with Beyonce.
TMZ reports that Beyoncé was prominently featured on CMAWorld.com early Thursday, and that the association's official Twitter account tweeted about the performance, as well.
However, following the performance, all mention of Beyoncé on the CMAs website and Twitter account had been erased, and the association offered no explanation until the Beyhive went to war.
Late Thursday, however, the CMAs Instagram page regrammed one of Bey's photos from the show, and has been the only post referencing the singer's performance that the association shared:
Ummmmm shade or nah?!
According to HuffPost word quickly spread that the CMA Awards removed all mention of Beyoncé as a result of some country music fans tweeting racially-tinged criticism of the decision to let her perform. Cuntry music fans were angry that the CMAs allowed her to play her music at "our country music show," since she "hates cops, white people, and supports BLM."
"Having Beyonce perform at the CMA Awards is like having Taylor Swift perform at the BET Awards," one Twitter user wrote.
Sources told TMZ that the CMA Awards did in fact delete all mention of Beyoncé as a result of the racist criticism, as well as to distance the award show from the Black Lives Matter movement. But in a statement provided to The Huffington Post, the association said that was not the case:
CMA has not erased any mentions of Beyoncé's performance on the CMA Awards. In advance of the broadcast, CMA removed a five-second promotional clip from ABC.com and CMA's Facebook page. The promo was unapproved and CMA removed it prior to the broadcast. Beyoncé's performance with Dixie Chicks was a highlight of the evening and we are continuing to share the amazing full-length performance clip via our official social channels.
On Thursday evening, the Dixie Chicks took to Twitter to share their feelings on the alleged scrubbing:
And even began retweeting tweets that called the CMAs out for their actions.
We would like to thank the CMAs for making it very clear how they feel about Queen Bey and everything she represents…..