Protestors of the Black Lives Matter movement were denied entry into a recent event for Democratic Presidential hopeful Hillary Clinton, and left feeling unimpressed after being permitted to meet with her privately following the denied entry.
It makes us pose the question if Hillary is really the one to combat racial and economic inequality in America during this next presidential term……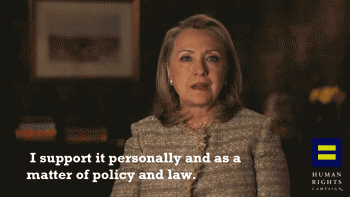 Via: Politico
Hillary Clinton met with five Black Lives Matter activists behind closed doors following her campaign event here on Tuesday evening, after the group tried to disrupt the forum but arrived too late to get past security.
The group – affiliated with Black Lives Matter organizations in the Boston area — told reporters afterwards that they asked Clinton about "her and her family's history with the war on drugs both at home and abroad, and how she felt about her involvement in that violence that has been perpetuated, especially against communities of color and against black folks," said Daunasia Yancey. "We wanted to know her reflections on her involvement as first lady, as senator, and as secretary of state."
Clinton's response, which they declined to detail, was not a reflection on "her part in perpetuating white supremacist violence," Yancey said. "I heard a reflection on failed policy."
"She did acknowledge that there have been policies that she has been part of promoting that have not worked," Yancey added, without detailing which policies specifically she meant.
Reporters were not allowed into the group's meeting with Clinton, but the activists said they had recorded the exchange and plan to publish it.
"What we got was a Hillary Clinton who was willing to delve into the issues given her platform constraints, but she was not willing to take responsibility for or give much voice to the anti-blackness current. She validated some of the points that we offered, but she didn't offer many of her own," said Julius Jones of Worcester, Mass. "She was intentional about meeting us. She got something out of the meeting, that much is certain. What I feel like I got out of the meeting was to press her in a very real way and probably in a way that she hasn't been pressed in a long time."
The Black Lives Matter movement so far has primarily targeted Bernie Sanders, who has been drawing huge crowds as a surging candidate and has seen two of his events disrupted, including one last Saturday. But the grassroots activists have said they plan to take on all the Democratic candidates, in an effort to have them more aggressively address institutional racism in housing, education and criminal justice.
The activists said Clinton understood their problems, but that her answers were similar to what they've heard from other candidates.
"It rings similar in that it is a political response, right? They're politicians, and that it's a conversation about, again, policy and about drafting new legislation and those things, without, I think, the deep underlying conversation around how those policies were drafted in a way that supports white supremacist violence," Yancey said, before clarifying later that she felt good about having had the exchange.
Tuesday was not the first time Clinton has been the focus of criticism. While she's made a point of saying "black lives matter" in recent months, she came under fire for saying "all lives matter" at an event outside of Ferguson, Missouri in June. The comment sparked a social media backlash.
Because the former secretary of state and first lady has Secret Service protection, her events are typically sealed once she enters the building — and the group of activists apparently did not make it to the event by that time. They were standing under a tent outside the school doors as the event began, but eventually made it into the building to watch in the side room.
Do you think Hillary Clinton needs to take a more hands on approach with the concerns of the Black Lives Matter movement? #MakeAStatement