Democratic Presidential hopeful Bernie Sanders is going head-to-head against fellow Presidential hopeful Hillary Clinton and the gloves are off.
Just one day after Clinton showed support for the highly-criticized death penalty, Sanders shut down her claims and expressed his plans to do away with the controversial policy.
Via: HuffingtonPost
Democratic presidential candidate Sen. Bernie Sanders (I-Vt.) stood by his long-standing opposition to the death penalty on Thursday, calling for an end to the policy during a Senate speech on criminal justice.
"When we talk about criminal justice reform, I believe it is time for the United States of America to join almost every other Western, industrialized country on Earth in saying no to the death penalty,"
Sanders said during his speech on the Senate floor. "We are all shocked and disgusted by some of the horrific murders that we see in this country, seemingly every week. And that is precisely why we should abolish the death penalty. At a time of rampant violence and murder, the state should not be part of that process."
Sanders' remarks come one day after former Secretary of State Hillary Clinton, who is also running for president, came out against ending capital punishment, adding that she believes the use of the death penalty should be "very limited and rare."
Sanders also reiterated his call to remove marijuana from the Drug Enforcement Administration's "most dangerous" drug list, which would open the door for states to adopt their own marijuana policies without the worry of federal government intervention.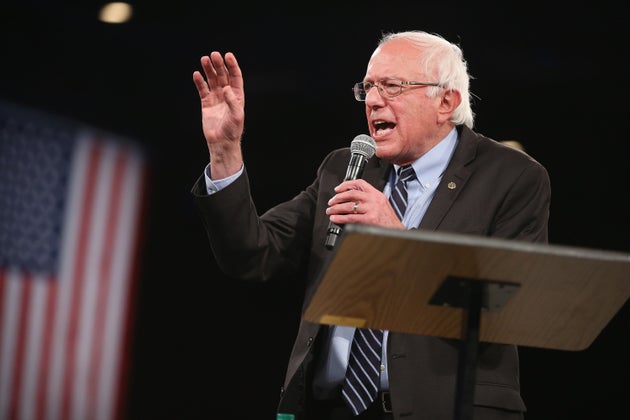 The Vermont senator has publicly opposed the death penalty for his entire tenure in Congress. In 1991, his first year as a member of the House of Representatives, Sanders spoke out against the policy during debate on the Violent Crime Prevention Act of 1991, which sought to expand the death penalty.
Former Maryland Gov. Martin O'Malley, another primary rival of Clinton and Sanders, is also opposed to the death penalty. In 2013, he signed a bill abolishing the practice in Maryland.
According to a Gallup poll conducted earlier this year, 61 percent of Americans are in favor of the death penalty in murder convictions, while 37 percent are not.
What Democratic candidate has got your vote so far? #MakeAStatement below