CNN hosted the first Democratic Presidential primary debate on Tuesday October 13, from the Wynn Hotel and Casino in Las Vegas, Nevada, and it was clear that Hillary Clinton and Bernie Sanders are the frontrunners of the Democratic candidacy.
The five Democratic hopefuls included Hillary Clinton, Bernie Sanders, Martin O'Malley, Jim Webb, and Lincoln Chafee, who all took the stage to speak their peace on policy plans that have in mind for major issues concerning the Democratic party.
The Democratic debate was hosted by 360 host Anderson Cooper, who was also joined by Don Lemon who asked questions to the candidates posed by Facebook users.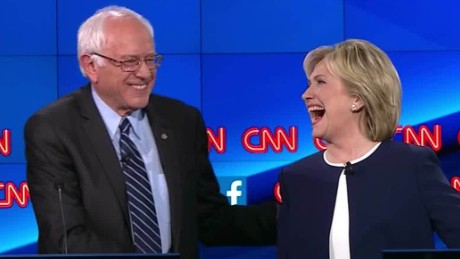 Bernie seemed more bold with his statements, while Hillary was very clean and sharp with all of her answers. Martin O'Malley is said to have a chance to "live another day", but with a slight chance that Joe Biden could enter the race, we're not sure how strong anyone's chances are with this upcoming election.
Take a look at some of the highlights from the Democratic debate below.