Young activist/actress Amandla Sternberg has become a major face within the #BlackGirlMagic, and so much so that Beyonce even wants Blue Ivy to be just like her when she grows up!
Amandla sat down with Glamour magazine where she opened up about her experience working with Beyonce and Zendaya on the "Lemonade" project, and how Bey told Amandla herself how much she admires her and wants her daughter to be like her in the future.
Via: Glamour
And so Zendaya and I kind of sat next to each other and like gossiped about what would happen, like we were so excited, we were kind of whispering in each other's ears…And so then we get to the set, and Beyoncé comes up to me, and she goes, "Hello, Amandla. I just wanted to tell you I want Blue to be just like you," and I felt like the hands of God were like gently caressing my entire body and soul, like I felt like I had reached nirvana, and I was like, "Thank you very much." I think I said something really lame and gushing about her to her face [laughing].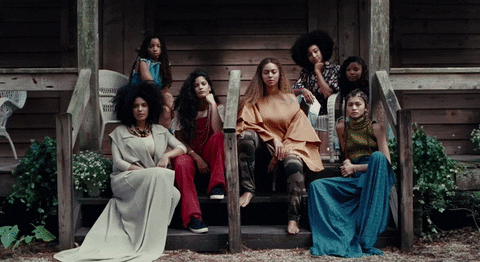 Me and Zendaya had the task of climbing up this ladder into this tree that was very far off the ground, and we were wearing these like petticoats that were so long, like dragging on the ground and heels, and we had to climb up these ladders, and we were joking with each other, we were like, "If this is how we die, that's okay" said Amandla.
"[Laughing]. It's okay because we're at a Beyoncé shoot, and we could die for her, and it'd be fine, but we ended up sitting up on that branch for a couple hours, and we like really had to pee, and our legs were going numb, but we were just like blissed out [laughing]."
On #BlackGirlMagic Movement:
"I hope that kind of this movement centered around black women becomes more inclusive because there is a lot of colorism within the movement that even I benefit from, and so I hope it's more inclusive of dark-skinned women," said Amandla. "I hope it's more inclusive of sex workers. I hope it's more inclusive of girls who haven't gone natural and still have straight hair, wear weaves, I hope it's inclusive of all kind of different representations of blackness instead of one that's become more mainstream, that's become more acceptable, you know."