A random act of terrorism has hit the streets of NYC once again. Many are shocked and in fear after a self-made bomb was set off in the Chelsea district of New York City on Saturday night.
Police and government officials are still on the search for alleged suspect Ahmad Khan Rahami of Afghanistan.
Via: HuffingtonPost
Ahmad Khan Rahami, 28, has been identified as a suspect in the Saturday night explosion in Manhattan that injured 29 people.
"He could be armed and dangerous," New York City Mayor Bill de Blasio (D) said Monday, warning citizens of New York to be vigilant in looking for Rahami and report any sightings to authorities.
De Blasio told CNN's "New Day" that Rahami, who is of Afghan descent, is a naturalized U.S. citizen. The FBI was searching a building at Rahami's last known address in Elizabeth, New Jersey, on Monday.
"They will be there for the next few hours, going through this location to find any evidence possible, whether it's in relation to this incident or the Chelsea incident," Elizabeth Mayor Christian Bollwage told CNN.
An emergency alert was sent to cellphone users in the New York City area, telling residents to "Call 9-1-1 if seen."
New York Gov. Andrew Cuomo (D) said the Chelsea bombing "was clearly an act of terrorism," and said it's possible there was "a foreign connection to the act." As of Monday morning, no global terrorist groups have claimed responsibility for the blast.
"A bomb going off is, generically, linked to terrorist activity. And that's how we're going to prosecute it," Cuomo said Sunday, speaking from the site of the blast.
Several people were reportedly taken into custody late Sunday in connection with the explosion. New York state Sen. Marty Golden (R) wrote on Instagram "the FBI took several individuals into custody on the Belt Parkway in the area underneath the Verrazano Bridge."
The New York Times said the FBI had taken five people to its office in Manhattan for questioning, and that some or all may be from the same family. However, the agency told the newspaper "no one has been charged with any crime."
The city was under heightened security and an increased police presence following the explosion, which prompted an investigation into a potential terror link, officials said.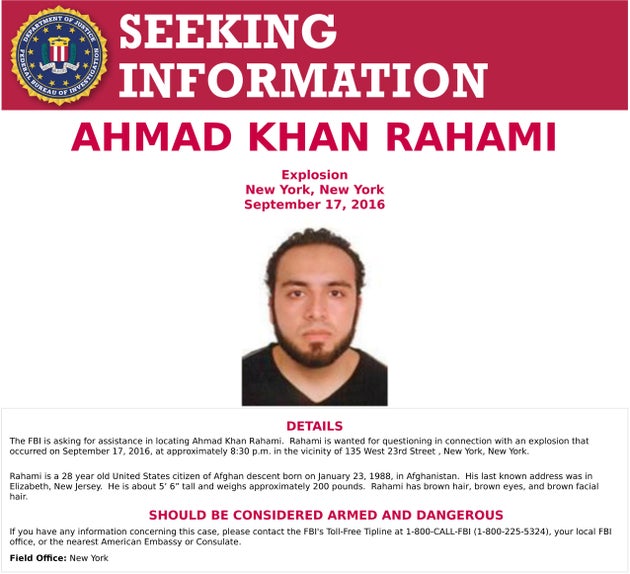 "I want New Yorkers to be confident when they go back to work Monday that New York is up and running and that we're doing everything we need to do," de Blasio said Sunday.
The city was already planning to increase police presence as foreign dignitaries arrive for the United Nations General Assembly meeting this week; after Saturday night's explosion, residents and visitors should expect a "bigger than ever" presence, de Blasio said. Canines and heavy weapons teams have been assigned to transit hubs and stations, said Police Chief of Department Carlos Gomez.
An additional 1,000 New York State Police and National Guard officers have also been deployed to subway stations, Cuomo said Sunday.
The explosive device went off on 23rd Street between Sixth and Seventh Avenues Saturday evening, an area of the city that is teeming with nightlife on the weekends. A second device was found near the blast site and sent to the FBI's lab in Quantico for analysis, Sgt. Brendan Ryan told The Huffington Post.
Cuomo said the incident could be related an explosion in New Jersey earlier on Saturday, when one pipe bomb exploded and two more were recovered along the route of a 5K charity race, authorities said. Authorities said a July incident in which a pipe bomb injured a tourist in New York's Central Park was not related.
Security cameras in a nearby buildings captured the blast which happened shortly after 8 p.m.:
Officers responded to reports of a second explosive device nearby, on 27th Street between Sixth and Seventh Avenues, just before 11 p.m. Police recovered a bag with a pressure cooker connected to wires and a cell phone, NBC News and NY1 reported.
Cuomo said the second device was "similar in design" to the one that blew up on 23rd Street; he said the multi-part explosive recovered in New Jersey was different. But on Monday, Cuomo said "there are similarities" in the New York and New Jersey devices.
"They are not identical, but there are certain similarities in the way the bombs were put together with certain elements, et cetera, suggesting that there might have been a common linkage or a common person behind all the bombs," Cuomo told CNN.
Cuomo said Sunday that there were no fatalities and that all of the injured had been released from the hospital. He noted that at least 1,000 extra officers and the National Guard had been mobilized to monitor the city's subway system.
Many of the injuries were the result of shrapnel, which witnesses said had come from a dumpster that exploded outside the Townhouse Inn of Chelsea at 131 West 23rd Street, multiple news outlets reported.
Visitors crowded the barricades that police used to block off the area, which is a popular nightlife destination. Many onlookers were stranded tourists, who were unable to return to their hotels.