Who hasn't Azealia Banks pissed off in Hollywood?!
The struggling Harlem femcee was recently thrown out of a hotel party by Oscar-Award winning actor Russell Crowe after she allegedly threatened to slice guests throats with broken glass.
Many were excited for Azealia after she recently announced that she was being signed to Wu Tang member, RZA, record-label. However, after her latest antics, it appears that might be short lived.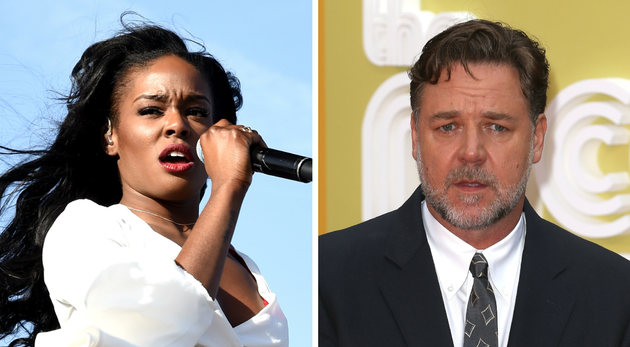 The "Gladiator" actor reportedly kicked the 25-year-old rapper out of his hotel room on Saturday night after she made some pretty harsh and gruesome threats toward Crowe and his guests.
Multiple witnesses in the hotel room that night shared their accounts of what happened saying that Azealia became irritated with Crowe's music selection and responded by calling him and a few others "boring white men."
Banks reportedly threatned Crowe and his guests saying, "You would love it if I broke my glass, stabbed you guys in the throat, and blood would squirt everywhere like some real Tarantino s**t."
Many guests described Banks' behavior as "erratic," according to TMZ. 
Crowe reportedly stayed pretty calm throughout the ordeal, but when the rapper reached for a glass and cocked it back, the Oscar-winning actor is said to have wrapped Banks in a tight "bear hug" and carried her out of his room.
Security guards were then asked to remove Banks from the hotel.
The "212" rapper's version of the events are drastically different. Banks reportedly accused Crowe of assaulting her, spitting on her and calling her the n-word on Facebook before deleting it.
Details are still pending. But we're sure RZA is not happy with how Azealia acted at a private party he invited her to.