Tension has only escalated following the country's outrage over the police shootings of
Alton Sterling
and Philando
Castile.
The nation erupted into a series of peaceful protests in support of the Black Lives Matter movement, and a call for justice into the deaths of both Sterling and  Castile, and the increase of deaths caused by police officers.
However, following the peaceful protests in Dallas, Texas, an alleged group of snipers opened fire on local police resulting in the death of 5 officers and 10 others being wounded.
A suspect who died after a standoff with Dallas police said he wanted to kill white people — especially white officers — and that he was upset about "the recent police shootings," and that he acted alone, Dallas Police Chief David Brown told reporters Friday.
The suspect eventually was killed by a bomb that authorities detonated, Brown said.
"We saw no other option but to use our bomb robot and place a device on its extension for it to detonate where the suspect was," Brown said. "Other options would have exposed our officers to grave danger. The suspect is deceased as a result of detonating the bomb."
Five police officers were killed and seven others were injured
in the ambush in Dallas that began Thursday night, officials have said, in
the deadliest single incident for U.S. law enforcement
since September 11, 2001. Two civilians also were injured in the shootings, the office of Dallas' mayor has said.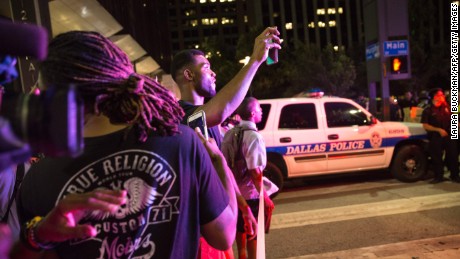 Most of the injured Dallas police officers have been released from a hospital, Brown told reporters. The officers' conditions are improving, Brown said.
"All I know is that this must stop — this divisiveness between our police and our citizens," Brown said. "We don't feel much support most days. Let's not make today most days. Please, we need your support to be able to protect you from men like these, who carried out this tragic, tragic event."
Brown said an investigation into the ambush continues.
"I'm not going to be satisfied until we've turned over every stone. We've got some level that this one suspect did do some of the shooting. But we're not satisfied that we've exhausted every lead," he said. "So if there's someone out there who's associated with this, we will find you, we will prosecute you, and we will bring you to justice."
The deadly gunfire erupted in Dallas on Thursday night as videos showing two African-American men shot by police in
Louisiana
and
Minnesota
spurred protests and debate over police use of force across the country.
Here's what we know:
— At least 10 police officers were shot by snipers during the protests, Dallas police Chief David Brown said.
— Brown said it's unclear how many suspects were involved, but three people are in custody.
— Police negotiated and exchanged gunfire with a suspect for hours at a parking garage in downtown Dallas. That suspect is dead, a law enforcement official told CNN. The official did not say how the suspect died.
— "The suspect told our negotiators that the end is coming," Brown said. The suspect at the garage also told negotiators more officers were going to get hurt, and that bombs had been planted all over downtown.
— Police found no explosives during primary and secondary sweeps of the area, Dallas police Maj. Max Geron said Friday morning on Twitter.
— Two of the shooters were snipers who fired "ambush-style" from an "elevated position," Brown said.
— Retired FBI Special Agent Steve Moore said an attack of that magnitude required advance work.
— "This was an attack planned long before — waiting for an opportunity to go," Moore said. "I think there was so much logistically, ammunition-wise. They may not have planned the location, they may not have planned the vantage point. But they had prepared for an attack before last night's shooting is my guess."
—
President Barack Obama
, who is in Warsaw, Poland, said his team is keeping him updated.
"We still don't know all the facts, we do know there's been a vicious, calculated and despicable act on law enforcement,"
Obama said.
"I believe I speak for every American when I say we are horrified."
Witnesses said the protesters were marching peacefully when the gunfire started. Crowds scattered.