The 45th mass shooting took place yesterday at a community college in Oregon.
After yet another mass shooting that took the lives of innocent people, President Obama is wondering why our country has become "numb" to this madness.
Via: HuffingtonPost
Ten people were killed and seven were wounded Thursday in a shooting at a small community college in Roseburg, Oregon, according to multiple reports.
Sheriff John Hanlin said Thursday evening that the toll had been revised downward from the earlier figures of 13 dead and at least 20 wounded. Names of the victims won't be released for at least a day, he said.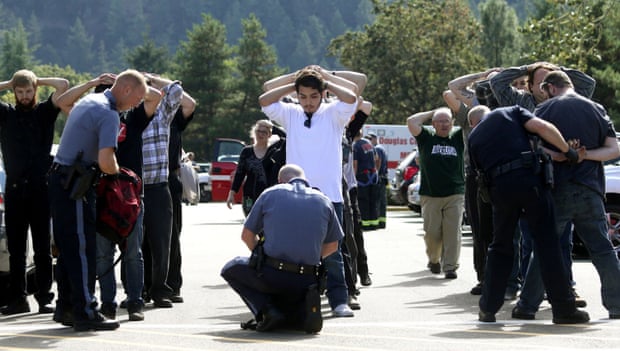 Hanlin said earlier that officers had "neutralized" and killed the shooter, a male, during an exchange of gunfire in a campus building at Umpqua Community College. He declined to reveal any information about the shooter.
Oregon Gov. Kate Brown (D) said during a separate news conference that the killer was 20 years old. The governor said she would attend a vigil later Thursday night at Stewart Park in Roseburg.
Three additional victims were taken to PeaceHealth Sacred Heart Medical Center at RiverBend in Springfield, about an hour north of the site of the shooting. The hospital said on Twitter that the victims were all female and between the ages of 18 and 34, and quoted a doctor who said that an "army" of doctors and nurses had volunteered to help. The hospital later said two of the victims were in serious condition and one was critical.
Several media reports on Thursday afternoon indicated that before opening fire, the gunman ordered students onto the ground and asked them to identify their religion, according to an 18-year-old student who witnessed the shooting. The New York Times cited the student's account of events in a post that was later taken down to attribute the interview with the student to The News-Review of Roseburg, Oregon.