Via: FiberGaurdian
Featured today on Fiber Focus Friday is nothing less than OATMEAL, and it is indeed OUTSTANDING. Oatmeal is one of the best fiber foods for you and it packs a wallop when it comes to both weight loss and nutrition.
As many of the other foods featured on Fiber Focus Friday– oatmeal is a superfood. It tastes awesome (in the right form) and it comes in all kinds of different varieties. Oatmeal can be enjoyed by both young and old, for breakfast or for dinner. There is nothing to stop you from adding it to your diet right away!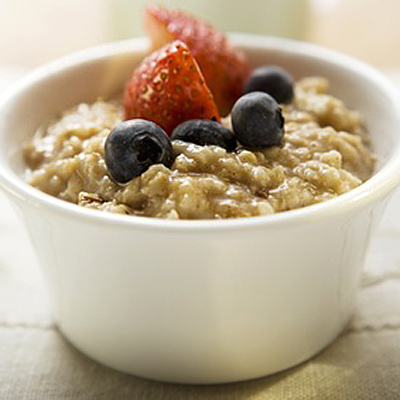 Health Benefits of Eating Oatmeal
Oatmeal can reduce the bad cholesterol in your system and boost the good cholesterol. Increasing consumption of this superfood can serve to reduce the risk of heart disease.
Oatmeal can help you to lose weight by making you feel full because of its high fiber content.
 You can also eat Oatmeal for cancer prevention including a reduced risk of some cancers, such as colon cancer.
Oatmeal is an awesome source of protein which is excellent for losing weight, especially if you are involved in any type of fitness routine. Pumping your body with protein is important when lifting specifically, and oatmeal can be a great way to feed your muscles.
Oatmeal can also help to lower blood pressure
Oats are usually 100% Natural which is awesome for anyone trying to eat healthy. This changes when eating any type of instant version, so be sure to monitor the nutrition labels!
Oatmeal has more soluble fiber than any other grain, and this can be a great way to regulate your system and avoid Irritable Bowel Symptoms (IBS).
ENERGY- Oatmeal gives you an excellent boost of energy because of its protein and carbohydrate content!
Great for the skin. Oatmeal baths are a real thing, and taking them can can help to relieve itchy and or dry skin by normalizing the PH. Try making your own oatmeal bath to make your skin feel amazing!
Helps to combat diabetes by normalizing blood sugar levels.
It is extremely important to shoot for about 25-38 grams of fiber per day and eating a bowl of oatmeal in the morning is a great way to start your daily journey towards fiber enlightenment.
Oatmeal is deliciously low in calories at about 160 per cup. Obviously, this number will go up if you add fruit and any other toppings (or make oatmeal into muffins!), but 160 is the base you are working with.
This is great news for those that are looking to get a quick and easy low calorie meal! Try not to go overboard with the sugar and strawberries, and you will have yourself an awesome breakfast!
Read more fiber eating tips on FiberGaurdian