Via: FitnessMagazine
Try to search for an app without finding at least five very similar options. But how do you know which is worth the storage space on your iPhone?
With a billion things already on your to-do list, there's no time to sift through the clutter. That's why we did the work for you. These are the 10 best smartphone apps that'll help you cross things off in a fast and furious fashion.
Brewster Address Book
For those who meet tons of people on a variety of platforms, Brewster is your new best friend. This app wrangles all of your contacts from different platforms—like LinkedIn, Facebook, WhatsApp, and email—and corrals them into one easy-to-find place. Forget worrying about which account has so-and-so's number, or if the info is out of date. Brewster updates everything in real time. Feeling organized yet?
Clear
You know that satisfying feeling when you've finally checked the last thing off your to-do list? Clear lets you do that everywhere (hello, iCloud) with each area of your life—work, home, personal—and set reminders so you never miss a beat. To keep you focused on your goals, prioritize your lists by color (we like red for the timely stuff) so that you know which tasks to get started on first. As soon as you're finished, simply swipe right and move on to what's next.
LinkedIn Job Search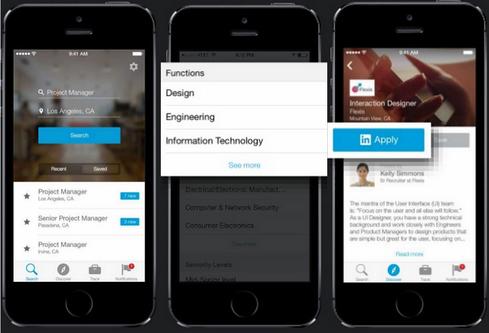 Whether you're actively hunting for a new gig or just want to be aware of your options, LinkedIn Job Search keeps you in the know. Browse the vast database of open positions in your downtime. When something catches your eye, apply directly to the person who posted the job—no more resumes disappearing into the black abyss of job portals. The app even lets you know who you're connected with at the company, so you can shoot over a friendly message ("Hey, put in a good word for me!"). No time to sift through tons of options? Set personalized notifications and receive an alert whenever jobs in your field become available.
Sunrise Calendar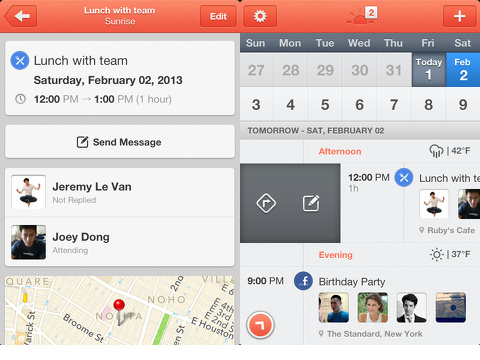 No more showing up to meetings unprepared, even if they're scheduled at the last minute. Sunrise Calendar acts as your personal assistant before big presentations, pulling in the LinkedIn profiles of those you're meeting with and Google Maps so you have driving directions right away. Need to schedule an appointment on the fly? The "Quick Add Event" function lets you type something as simple as "coffee date with Jen tomorrow at 3pm" and—voila—it's synced to the calendar and you're moving on to the next deadline.
SwiftKey
Let's set the scene: You're furiously typing a quick text or email to your hubby, BFF or co-worker…and hitting the backspace button to fix autocorrect on every other word. Save yourself the time—and frustration—with SwiftKey. This "smart" keyboard adapts to the way you type over time, learning your writing style to ensure more accurate messages (no more embarrassing autocorrect fails). Its swipe technology allows you to graze your fingers over letters for quicker-than-ever communication. And if you're worried about pocket-texting someone, simply switch off the keyboard to avoid any and all jumbled messages.
Humin
When you hit up one of those oh-so-important networking events, remembering the names of everyone you meet can be so hard. Download Humin and you no longer have to. Simply add their email and a quick note like "works at Starbucks." Next time you need to touch base, all you need to type is "works at Starbucks"—because let's be honest, that's the part we're more likely to remember—and Humin knows exactly who you're talking about. Oh, and while you move on to your next conversation, the app fills in other important information about the person, like a photo (for those who are good at remembering faces) and updated info on their public social profiles.
Snowball
These days there's a messenger built into almost every social media platform, resulting in a constant stream of notifications. Quiet the chaos with Snowball, which allows you to manage accounts, browse messages and dismiss the junk in one inbox. Translation: No more having to toggle between email, Snapchat and Facebook messenger to send three messages, eating up your time and battery power. Oh, and if you happen to be in another app—say, Spotify—the Snowball icon automatically appears so you can access that stream of messages in one (not five) click. Phew!
Evernote
It seems no matter how hard we try, the best ideas come at the most inconvenient times (in the shower, during a commute). Evernote gives you a place to jot down those ideas on the go, then connects with all your devices so you can flesh it out later. And if you come across an interesting article, photograph, or webpage that you want to remember, use the archive function for easy access later on. Need to turn those notes into a presentation quickly? No need to build slides—one quick click and Evernote transforms them into a screen-friendly layout. Hellooo, time management.
Workflow
No matter how many phone upgrades we get, there's always another capability we wish it had. Workflow solves that problem by making your smartphone, well, smarter. Acting as the command center of your phone, it connects apps and actions to create "workflows" that perform a series of tasks in one step. So, say you want to make a GIF out of photos on your phone, add voice memos to Evernote, and download a dropbox link. Simply set that up as its own workflow, so that when you need the work done, you make one click and it does all the work at once. Can't find an app to do what you want? Search for that function in Workflow—with over 150 actions, it's likely already there—to make it an app on your home screen.
WunWun
Consider WunWun your "everything delivery app." It acts as your own personal helper on those days when you really can't get to the store—any store. Say you forgot the one ingredient that's essential to your recipe, or you need to pick up that cocktail dress you've been eyeing for an upcoming event. WunWun will deliver them for you, free of charge (except for the expected tip). While WunWun currently services New York City and San Francisco, the company says more cities are on the way.