Even the British are not in favor of Donald Trump!
It has been reported that more than 1 million people have signed a British petition demanding that US President Donald Trump be denied a state dinner with Queen Elizabeth because of his "well-documented misogyny and vulgarity" that will "embarrass Her Majesty."
Donald Trump should be allowed to enter the UK in his capacity as head of the US Government, but he should not be invited to make an official State Visit because it would cause embarrassment to Her Majesty the Queen.

Donald Trump's well documented misogyny and vulgarity disqualifies him from being received by Her Majesty the Queen or the Prince of Wales. Therefore during the term of his presidency Donald Trump should not be invited to the United Kingdom for an official State Visit.
According to HuffPost, by Sunday afternoon, as many as 1,000 people each minute were signing the petition. The number of signatures was expected to hit 1 million by Monday morning in England. Parliament considers any petition with more than 100,000 signatures, so it will discuss the document at an upcoming session.
According to British media, several travelers holding British passports have been turned away at the U.S. border since Trump's executive order went into effect last week. However, following pressure from British officials, Trump aides have now said that British dual citizens from the targeted countries will be allowed into the U.S., according to controversial Brexit champion and British Foreign Secretary Boris Johnson.
Johnson said that he'd been reassured by Trump's chief strategist Steve Bannon and the president's son-in-law, Jared Kushner that travelers with dual citizenship will continue to be barred if they fly directly from one of the targeted Muslim-majority nations, the Telegraph reported.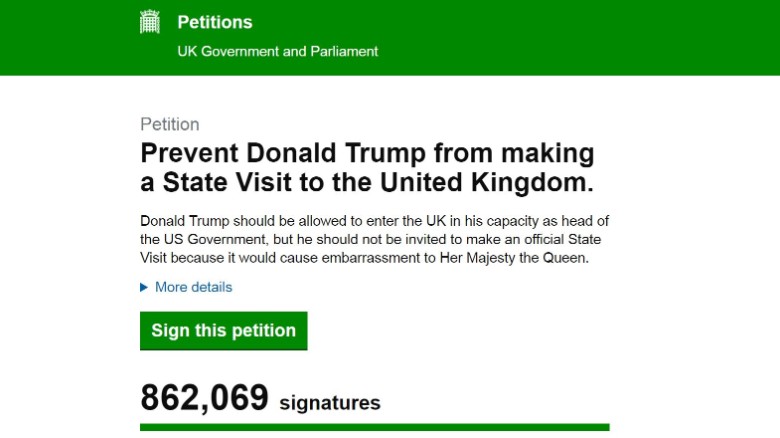 Source: HuffingtonPost